What they said … the hurling weekend in quotes
May 13, 2019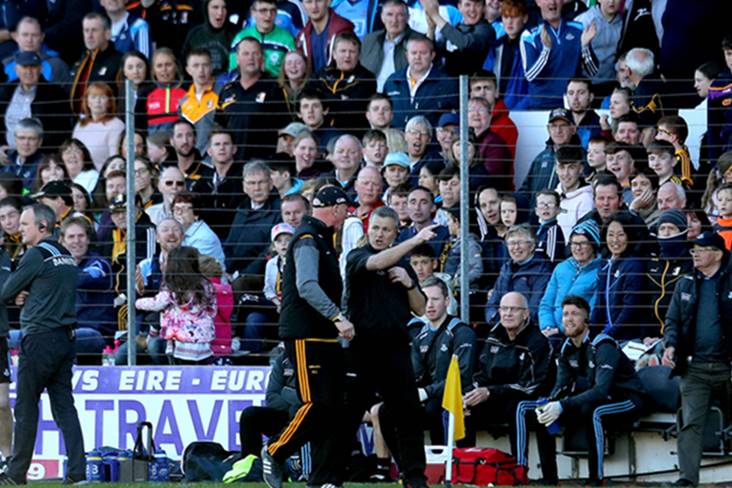 Kilkenny manager Brian Cody and Dublin selector Greg Kennedy exchange words during the Leinster SHC round 1 clash at Nowlan Park. ©INPHO/Ryan Byrne.
"Greg is a real top-class sports guy. He's very competitive but one thing about him, he wouldn't do anything like that deliberately and he assured me it was just a reaction."
The incident involving Greg Kennedy was the main talking point in Nowlan Park on Saturday evening and Mattie Kenny gave the Dublin version of events.
"I certainly haven't seen it before. I know Greg Kennedy played a fair bit of corner-back, but tonight it was a bizarre thing to do."
The Dublin selector incurred the wrath of Brian Cody after returning to the sideline.
"We got a great start to the second half and we got to three or four points and built on that. I felt John McGrath's goal was a piece of magic the way we worked the ball up and it was such a smashing ball across."
Liam Sheedy and Tipperary are up and running the Munster SHC.
"We're away to Limerick and we need to get a win – that's basically it."
The pressure is on John Meyler and Cork following yesterday's seven-point loss to the Premier County.
"I suppose we came down here about eight weeks ago. I wasn't playing myself but we got an awful trimming. I remember in the dressing room, there were a lot of disheartened faces and [wondering] what kind of went wrong. We got two weeks off and for the last six weeks, we just focused on Waterford totally and coming down to put in a massive performance in Walsh Park. It's great to get out on the right side."
John Conlon and Clare avenged their league defeat at the hands of Waterford.
"The game lasts for the time the game lasts. They got their scores just before half-time, towards the end of the game, we were the team coming. We're far from done."
The Deise are down but not out, insists Paraic Fanning.
"We don't know where the ceiling with this team is. We can't be one-hit wonders in terms of putting up a performance. We really want to make a mark. It's not a case of coming to make up numbers."
Galway were pushed to the pin of their collar by Colm Bonnar's Carlow.
"It's two points on the board now and we go away obviously with workings. But similar to every other game, we keep saying the next one is the most important one."
Tribe boss Micheal Donoghue wasn't overly happy with his team's performance against the Barrowsiders.
"It was a mighty battle and we expected nothing else coming over to Tullamore to play an Offaly team fighting for their lives."
Laois came out on top in a Tullamore thriller on Saturday evening and Eddie Brennan was fulsome in his praise of his players.
"It's do or die now and we have to go down to Mullingar and win it. When you fall off the horse, you are better off getting back up on it straight away."
Brennan's Offaly counterpart Kevin Martin switches his focus to another local derby.
Most Read Stories