Harte questions "harsh" refereeing decisions
August 11, 2019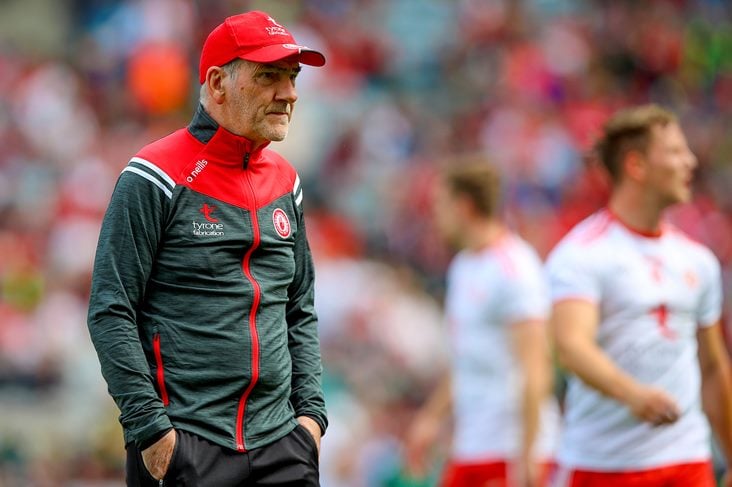 Mickey Harte during Tyrone's All-Ireland semi-final clash with Kerry
Tyrone manager Mickey Harte has questioned a few of the calls made by Maurice Deegan in today's All-Ireland SFC semi-final.
The Red Hands went down to Kerry on a 1-18 to 0-18 score-line at Croke Park and, speaking to Sky Sports afterwards, Harte felt his team had to contend with some "harsh" calls from the Laois referee over the 70 minutes.
"He (Deegan) obviously played a big part in it because he was very important, he made a lot of decisions. If you felt he made the decisions good for you you'd say 'hey that's great' and if you felt he didn't do them good for you you'd say 'I felt that was a bit harsh'. You certainly would have looked a few decisions and thought they were harsh," the three-tme All-Ireland winning boss stated.
"I felt it seemed to be easy to get frees at certain stages of the game and this 'seeing things in the distance ahead of the game' (off-the-ball incidents).
"One I thought was really strange, we were coming out with the ball, Mattie Donnelly is coming out to try and present for it and he's blown for holding. Now I wonder why he would want to hold the defender, he'd want the ball not to be holding the defender but these things happen and I'm sure everyone will look through it to their own coloured lens and to mine in the immediate reflection.
"I thought there were a number of decisions that weren't good for us."
Most Read Stories