Nicky Rackard Cup round-up
May 12, 2018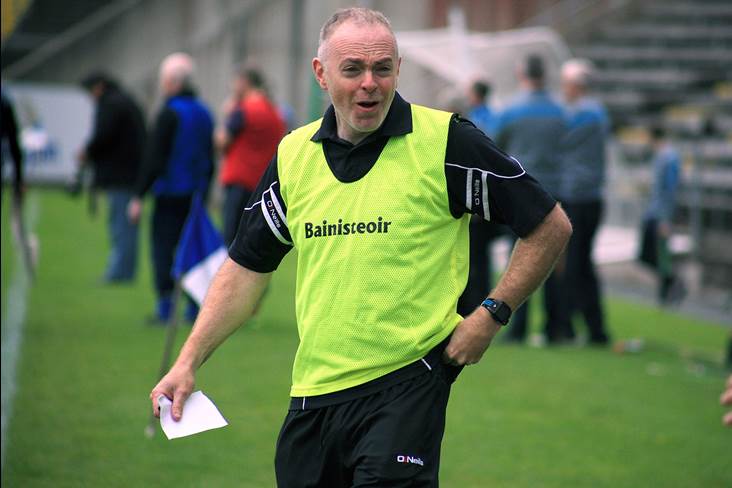 Warwickshire manager Tony Joyce.
Warwickshire have continued their winning ways in the first round of the Nicky Rackard Cup.
Last year's Lory Meagher Cup winners produced an impressive second-half display to overcome Louth on a scoreline of 3-19 to 1-16 in Dowdallshill today.
Tony Joyce's side repeated their Allianz HL Division 3A final victory over the Wee County when outscoring them by 2-10 to 0-7 in the second-half.
The first-half had finished with the sides tied at 1-9 apiece.
Shane Caulfield, Garry Lennon and Kelvin Magee netted the goals for the winners.
Full-forward David Kettle raised a green flag for a Louth side that lined out minus the services of the Arthur brothers.
Donegal, meanwhile, finished with 14 points to spare over Tyrone in Killyclogher.
Davin Flynn opened the scoring with a goal and it finished 1-26 to 1-12 in the Tir Chonaill side's favour.
Padraig McHugh registered a second-half goal for the Red Hands who trailed by 0-7 to 1-10 at the midway point.
At Inniskeen, Monaghan possessed too much firepower for Longford and enjoyed a convincing 4-19 to 2-10 success.
Eamonn Collins, Mark Treanor, Brian McGuigan and Tadhg Campbell raised green flags for the winners who led by 1-13 to 1-6 at the halfway stage.
Joe O'Brien found the back of the Monaghan net twice for the visitors.
Warwickshire - C Robbins; W Allen, D Bruen, M O'Regan; P Scally, P Hoban (0-4, 3f), D Kennedy; J Collins (0-1), P Uniacke (0-2); N Kennedy (0-1), D Nugent (0-5), N McKenna (0-5f); G Lennon (1-0), S Caulfield (1-1), K Magee (1-0). Subs: P Crehan for P Uniacke, T Kelly for M O'Regan, B Fallon for G Lennon, R Curley for D Kennedy, I Dwyer for K Magee.
Louth - S Hackett; S Kettle, M Wallace, M Lyons; F Joyce, R Byrne (0-2f), A McCrave; D Ryan (0-1), M Molloy; P Lynch (0-6, 4f), S Callan (0-2), S Connelly (0-2); J Crosbie (0-1), D Kettle (1-1), G Smyth (0-1). Subs: D O'Hanrahan for J Crosbie, J Martin for F Joyce.
Referee - J Clarke.
**
Donegal - P Burns; P Doherty, C McDermott, S Gillespie; J Donnelly (0-1), D Cullen, C Matthewson (0-3); J Boyle, S McVeigh; D Coulter (0-13, 9f), D Flynn (1-5), B Lafferty; E McDermott, R McDermott (0-1), G Gilmore (0-2). Subs: K Campbell for E McDermott, G Browne for J Donnelly, C McDermott (0-1) for D Coulter, N Cleary for J Boyle.
Tyrone - C McElhatton; C McNally, R Devlin, P McHugh; L Devlin (0-1), S Donnelly, C Kearns (0-2); D Begley (0-1), C Cross; D Casey (0-7, 4f, 1'65), P O'Kelly, J Ferguson; A Kelly, R McKernan (0-1), B McGurk (1-0). Subs: J Kelly for R McKernan, P Daly for J Ferguson, T Morgan for C Cross, L Armstrong for P O'Kelly
Referee - K McGeeney.
**
Monaghan - P Bermingham; J Guinan, K Crawley, B Flanagan; P Finnegan, P Treanor, M Murphy; M Treanor (1-3), A Kenny (0-1); C Boyle (0-2), F Rafter (0-5, 2f), C McNally (0-1); N Garland, E Collins (1-7), T Campbell (1-0). Subs: B McGuigan (1-0) for C McNally, C Power for C Boyle, S McNally for E Collins, P McGahon for M Murphy, C McAnespie for T Campbell.
Longford - E Daly; A Sheridan, E Kavanagh, J Casey; S Hannon, B Hanley, J Leonard; P Walsh (0-2), J Mulhern; C Kavanagh (0-1), D Connell, P Barden; K Murray, C Mullane (0-4, 3f), J O'Brien (2-3). Subs: PJ Masterson for J Mulhern, G Moore for E Kavanagh, S O'Brien for C Kavanagh, R O'Brien for P Barden, N O'Connor for J Leonard.
Referee - A Ferguson.
Most Read Stories