What they said … the weekend in quotes
February 17, 2020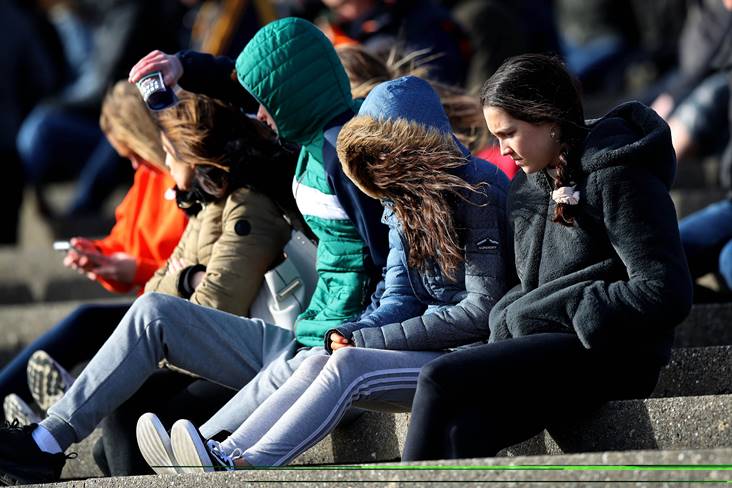 Spectators brave the conditions during the Allianz HL Division 1 Group B clash between Wexford and Kilkenny at Chadwicks Wexford Park. ©INPHO/Ryan Byrne.
"Look, you are put on a committee for rules or revision or whatever you want to call it in Croke Park now and you are supposed to justify your existence by saying 'we'll come up with a brainwave'. To me that's not a brainwave. I'm saying it a long time, I wish they'd leave a very, very good game alone."
Brian Cody rubbished the idea of introducing a black card to hurling.
"I asked them to show a bit more character and I think we got it in the second-half."
Wexford literally weathered a second-half Kilkenny storm and Davy Fitzgerald was happy with the battling qualities shown by his players.
"It was good to get the win. At half-time it wasn't looking great. But they were very rough conditions. It was hard to strike never mind score."
Brian Lohan's Clare finished with eight points to spare over Laois in Ennis.
"We've Wexford and Clare to go now. Two really good games. That's what we're looking for this time of year, them really competitive games. We got a really competitive outing down here tonight and next Saturday night in Croke Park will be a really good game against Wexford and all the guys are looking forward to it."
After securing an expected win against Carlow, Mattie Kenny and Dublin will face a sterner examination in GAA HQ next Saturday.
"We just need to carry more of a scoring threat, which we're not doing at the moment."
Carlow's reliance on Martin Kavanagh scores was highlighted by Colm Bonnar following their 11-point defeat to the Dubs.
"We knew at half-time it was going to be a battle and said all normal hurling skills go out the window, this is just a fight."
Cork scraped over the challenge of Westmeath and Kieran Kingston was relieved to come away from TEG Cusack Park with the points.
"It is frustrating the small little errors that cost us at this level. Today was a day where we could have made history in Mullingar."
It was one that got away as far as Lake County boss Shane O'Brien was concerned.
"They come out with all the right things in the media, that they are together now more than ever, but when it really comes down to it they're not really willing to put their bodies on the line for each other. It's all about the individual, not the collective. To be a consistent, top-performing team you have to be willing to put everybody else before yourself."
Galway's team spirit isn't what it should be, according to eight-time Kilkenny All-Ireland winner Eoin Larkin.
"It has been well documented and maybe Cavan more so than any other team in terms of the players that stepped away or went travelling, which is understandable, but all you can do is put 15 out on the field any given day and hopefully they work hard and give their best shot."
Mickey Graham guided Cavan to an impressive Allianz FL round 3 victory over Laois.
"There's still going to be loads of twists and turns but for us, we've got to put that out of our heads as quickly as we can and start focusing on Clare next weekend."
Mike Quirke and Laois can't afford to dwell on the disappointment of their performance.
"We're into giving value for money because if you want excitement or a roller-coaster of emotions, you got it there today."
Offaly survived a spirited second-half revival by Louth and John Maughan admitted it was too close for comfort at times.
Most Read Stories