Carnacon welcome lifting of 'heavy-handed' ban
August 31, 2018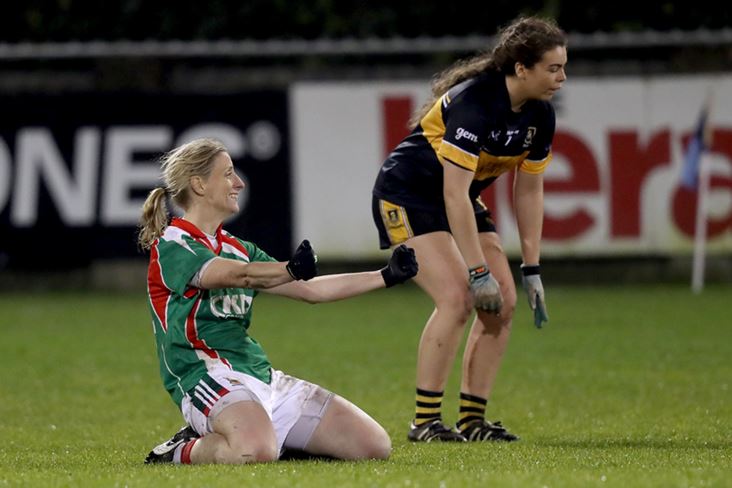 Cora Staunton celebrates Carnacon's victory over Mourneabbey at Parnell Park
Carnacon have taken a swipe at the Mayo ladies county board after they were reinstated to the county championship last night.
The All-Ireland ladies club champions were expelled for bringing the game into direpute by withdrawing all eight of their players from the county panel earlier this summer, but successfully appealed the decision to the Connacht Council.
In a statement on their Facebook page, Carnacon said they were "delighted to confirm that our appeal against the sanctions imposed by the Mayo ladies county board has been successful and we have been reinstated to the senior league and championship competitions for 2018.
"We are satisfied with this outcome and feel it reflects the impulsive, heavy-handed approach initially taken by the Mayo Ladies County Board.
"Without a full examination of the events available for club delegates, it has been proven incorrect to make any such ruling on the situation.
"A swift and fair hearing from the appeals committee of the Connacht LGFA Council was greatly appreciated and we are happy that we can now continue our preparations for the remainder of the season.
"As a club and individuals, we are very thankful for all the support we have received in the last few days, in what has been a difficult time with the negative attention and speculation surrounding the players involved.
"Unfortunately, this ruling stemmed from issues raised by players representing their county. As a club we supported these players and continue to do so. We will continue to be proud of all players and teams, including those who represent Mayo at all levels.
"We now look forward to getting back in action on the pitch and doing our best as a club to support all of our members. It has been a great honour to represent our families and communities on a provincial and national stage in recent years.
"We will strive to continue successfully and uphold the values that unite us a club."
Follow all the action from Sunday's All-Ireland SFC and MFC finals on our live match tracker.
Most Read Stories