What they said … the weekend in quotes
December 16, 2019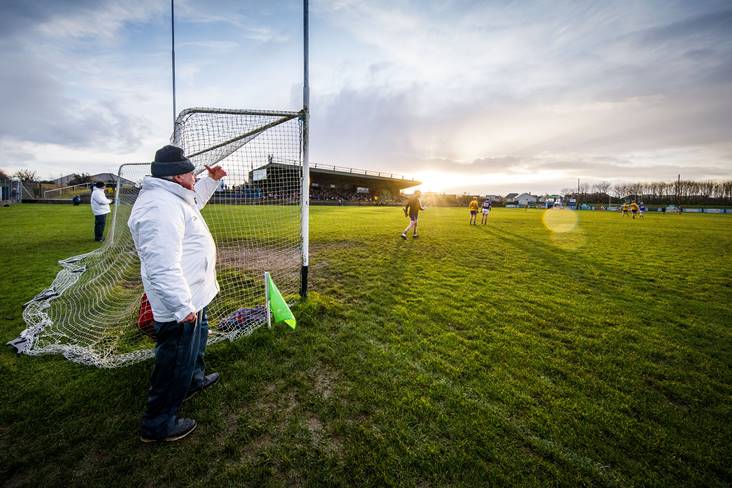 An umpire shields his eyes from the sun during the Munster SHL clash between Tipperary and Clare. ©INPHO/Oisin Keniry.
"You're looking for a bit of spirit from the guys that are out there. A lot of good guys from both teams didn't play so the first thing you want is a bit of endeavour and spirit and we got that."
Brian Lohan guided Clare to a Munster SHL win over Tipperary in his first change in charge.
"It's about getting new guys on the pitch. The reality is we will need new faces to feature in 2020 and I saw some really encouraging signs in terms of the lads that put their hands up."
Lohan's Tipperary counterpart Liam Sheedy wasn't overly disappointed with his team's one-point loss.
"I think you are going to see less goal chances. I think if a fella gets a mark inside, his first reaction is going to put his hand instead of playing on. As a result I think it will be counter-productive. I don't like it at all."
Andy McEntee is not a fan of the new advanced mark rule.
"The people who are making these decisions haven't got boots on them. They're not playing the game; they're not coaching the game. They're making these calls from ivory towers. Looking down and saying, "oh wouldn't it be great to see more kicking and catching up front". Not realising that maybe it's not what the game needs."
McEntee's coach Colm Nally echoed his manager's sentiments.
"In the next few weeks the focus will shift onto how to get the best results from the new rules. It's risk-reward. If you put the ball in looking for a mark, and it's not accurate, you're coughing up possession."
Westmeath will focus on the new rules in the coming weeks, according to Jack Cooney.
"He is a very important player for us and I think other players get energy from seeing what he does. I'd say he is glad himself to get a game under his belt; after all the talk that was about him he wants to go and play now."
The returning Daniel Flynn scored 1-2 in Kildare's O'Byrne Cup win over Wicklow and Jack O'Connor is glad to be able to call upon his services.
"He was an important part of our management team, and he brought a wealth of experience to the set-up. A great guy; a great speaker; a very intelligent guy; got on really well with the players and the rest of our management team."
Dessie Farrell was involved with the Dublin senior hurlers last year and Mattie Kenny is confident he will make a success of his new job in charge of the footballers.
"We're going to miss him (Jim Gavin) but we're really excited about the new challenge. A lot of us have played under Dessie (Farrell) before so we're really excited for the next chapter."
Farrell's appointment as Jim Gavin's successor also got the thumbs up from Ciaran Kilkenny.
"I've given it my all for as long as I could and I've a responsibility, not only to the team, but all of Dublin GAA to ensure the team do grow again. I think it's in the best interests of everything from my family to my work in aviation and indeed for the team itself, it's best to hand on. I'm looking forward to seeing the guys growing again in 2020."
Jim Gavin explained his reasons for stepping down after the history-making five in-a-row triumph.
"I am just a normal country lad from Clara and speaking of Clara, we are about to bury a very good GAA man tomorrow. I was down at the funeral today and I will be there tomorrow. I would like to dedicate this to John Buckley and his family."
Shane Lowry dedicated his RTE Sportsperson of the Year award to his club-mate John Buckley.
"I will be engaging with Liam at the earliest possible opportunity with the aim to come to an amicable agreement on all the key outstanding matters before the season commences."
Mayo's millionaire benefactor Tim O'Leary offered an olive branch to newly appointed County Board chairman Liam Moffatt after yesterday's convention.
Most Read Stories