'I said I would have a crack, we had nothing to lose'
August 17, 2019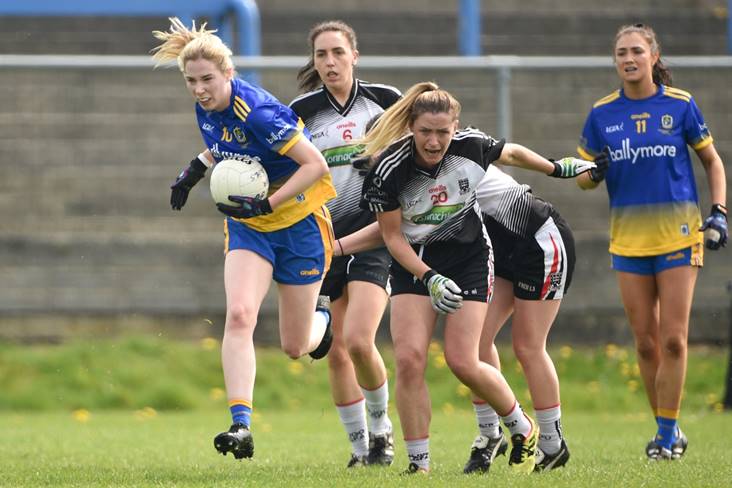 Alice Kelly of Roscommon in action against Nicola Brennan, Ann Maire Coleman and Bernice Byrne of Sligo during the Lidl NFL Division 3 semi-final match between Sligo and Roscommon at Glennon Brothers Pearse Park in Longford. Photo by Matt Browne/Sportsfile.
By DARAGH SMALL
Roscommon were 13 points down and in desperate need of inspiration during their 2018 TG4 All-Ireland Intermediate Championship semi-final when Alice Kelly soloed through and blasted a wonder-goal past Meath goalkeeper Monica McGuirk.
Kelly's strike wasn't enough to stage an unlikely comeback but it landed her the Goal of the Year at the TG4 All-Star awards night.
Today (SATURDAY) Roscommon have the chance to avenge that loss with another semi-final against the Royal County, and that's the only prize Kelly wants from this game.
"It was really nice to get the award and get invited to the All-Stars. That was a big achievement," said Kelly.
"It was nice to be at the night with all the top players that I watch and hear about week-in, week-out. It's nice they take all levels into account and don't just nominate the senior players.
"Roscommon people love their football and they got behind me as a county. It just shows the interest is there if you get the attention behind it."
The Roscommon fans will travel in their droves to Nowlan Park today in support of Michael Finneran's side. Last year saw Roscommon end a long wait for a Connacht Intermediate title but their campaign was abruptly ended by today's opponents at Dr Hyde Park.
They successfully defended that provincial crown this year, but Kelly wants to go one step further.
"There was a lot of pressure on us against Meath. It was an All-Ireland semi-final. It was a home game and there was a big crowd there.
"We had beaten Meath already and they caught us by surprise. We didn't put on our best performance.
"The goal came after half-time and I knew we needed something to keep us in the game. I said I would have a crack at it; we had nothing to lose."
Kelly operated at wing-forward for Roscommon prior to 2019, before she withdrew further back the field into the No 6 jersey.
It's a big change in the primrose and blue but Kelly is well used to playing at centre-back for her club Kilbride.
"I would have a good bit of experience there. They said they would give it a go in a challenge game and I stuck at it from there on.
"You can still attack from centre-back. You have the opportunity to get forward. And you are definitely on a lot more ball. I feel like I can read the game. I am decent enough at that."
At 29, Kelly and her club-mate Siobhan Tully are two of the more experienced players in the Roscommon squad. Kelly is the only squad member who is married, while Tully is engaged and set to tie the knot in 2020. They are known as the mammies.
"We are not old either but Roscommon do have a very young panel," said Kelly.
"There are about six or seven who have been on the panel for a good few years, and we have a few minors from last year, a lot of students as well.
"They might see me us as having a bit more life experience. But we all get on well. There is no divide. It's a nice blend."
Kelly lives in Moate with her husband, Kieran Dowd, a Galway native but a Roscommon Ladies supporter. Dowd is a pilot by trade and along with Kelly's work as a speech and language therapist they clock up the miles throughout the year.
"He tries to play football when he is home. But he is very busy. He could be gone for a couple of days at a time but he comes to any match he is around for.
"He flies for Ryanair and mostly European routes. He could be anywhere from France, Spain to Italy. I can't keep up with it!"
Kelly works for the Brothers of Charity and has a few bases between Roscommon Town, Castlerea and Athlone. It's a tough job but very rewarding, similar to her football, where Kelly dreams of more silverware in 2019.
Revenge is on the mind after last year's semi-final defeat but she is well aware of the threats Meath pose.
"Last year we just didn't give a team performance. We have really worked on that," said Kelly.
"Meath are very strong. They are definitely top two or three in the country. They won Division 3 of the Lidl National League this year. They have top class forwards who can trouble any defence.
"But hopefully it will be a lot closer than last year."
Most Read Stories