'I was rushed into a side-room and told I was heading for kidney failure'
June 23, 2018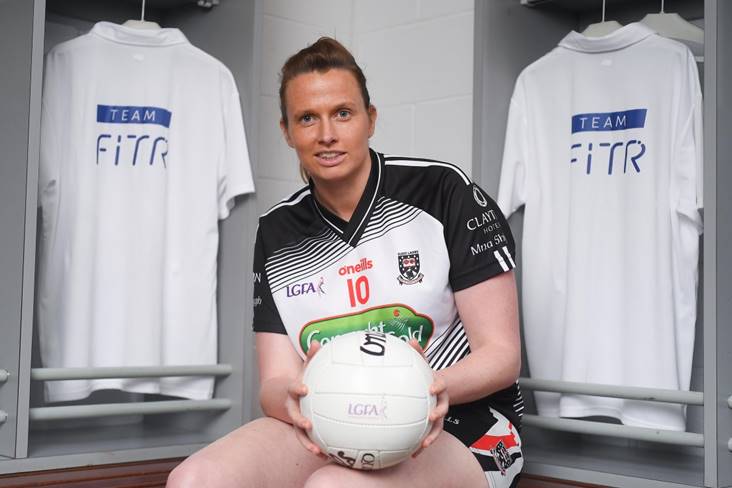 Sligo's Noelle Gormley at the launch of the LGFA's partnership with Orreco's FitrWoman app.
By Cliona Foley
NOELLE Gormley is grateful just to be part of the Sligo squad for tomorrow's (Sun) TG4 Connacht intermediate final after recovering from a terrifying football related illness that left her life in sudden danger.
The St Nathy's veteran won an All-Ireland junior medal in 2006 and a Division 3 title three years ago and, in her 14th year in the county jersey, was still playing well enough to get a TG4 Allstar nomination last year and chuffed to get her first call-up for the Allstars trip to Thailand last March.
But even before the touring party had landed home, the Sligo goalkeeper was feeling unwell and events then took a shocking twist.
"I thought it was just jet-lag, I was feeling very lethargic and couldn't eat. I hadn't eaten really for 10 days.
"We got home on a Friday, I went to the doctor on Saturday and into hospital for tests on Sunday and suddenly I was rushed into a side-room and told I was heading for kidney failure," she reveals.
"I took a normal knock in the match, played on, everything was fine. If the injury had happened here I'd have been fine but because of the heat my kidneys went into shock and weren't filtrating," she explains.
"My creatinine was through the roof and so was my potassium, which can result in cardiac arrest. I went through 18 bags of fluid initially and then it was a waiting game."
Gormley got out of hospital nine days later but is on a long-term recovery plan to regain her full kidney function and has just returned to work after needing over two months off to recover from life-threatening illness.
"I have tests every two week, you feel like a bit of a lab rat but my consultant has been brilliant," she says.
"Every day is a challenge because you're adapting to the medication and the tiredness levels. I went from training six nights a-week to not even being able to walk because it was changing my blood and I had no energy.
"I've got back training individually and doing a little bit collectively but it all depends on how I wake up," the Sligo stalwart explains.
"Some days I go to training and can't. Other days I get this burst of energy and just have to train. In terms of where I've come from it was very scary and probably far worse for those around me, especially my family."
Her football family has also proved a huge support.
"When I was in hospital the club and county girls were in to visit me before and after training and I've got texts and calls from all over the country. I think because it happened after the Allstar trip people got a bit of a shock but everyone has been so supportive."
One unexpected source of support is a piece of groundbreaking technology which the LGFA has just signed up to use and is supplying free to their players.
FitrWoman, an app designed by scientists and performance experts Orreco (founded in Ireland), allows athletes to track their menstrual cycle and customise and maximise their training to their fluctuating metabolism during it.
As one of the LFGA ambassadors for FitrWoman, Gormley got early access to it.
"I downloaded it a month ago and it shows you what type of training to be doing in each phase of your cycle and also gives you nutritional advice. It's really good for getting the best out of your body and I'm already using it to help me get back.
"It's been a long road and I'm still going through it but I have to be grateful," Gormley reflects. "The only football I've played so far this year was a game for the county and that exhibition game in Thailand.
"I'm just taking each day as it comes but my aim is to put my football boots and jersey back on for Sligo. That might seem something small but to me right now it's huge."
Most Read Stories