Galway ladies object to Connacht final ref
June 21, 2018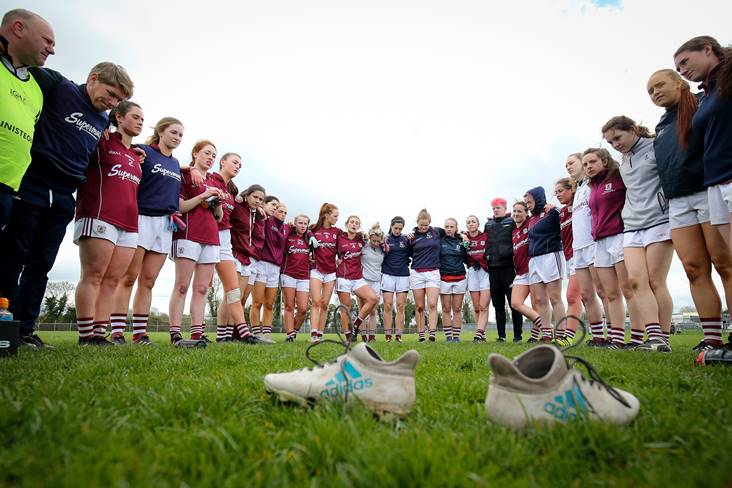 The Galway ladies huddle
Galway ladies manager Stephen Glennon has called the Connacht LGFA's integrity into question after standing by its decision to appoint Gerry Carmody to referee his team's Connacht final against Mayo on Sunday.
Mr Carmody is a former manager of the Mayo ladies minor team and Galway LGFA has since had an objection to his appointment turned down by the provincial body ahead of the decider in Castlebar.
The Connaught Telegraph reported the story this week and, in his statement on the matter, Glennon said he was of the hope that "bringing this matter to light in the public domain that this decision would be reversed".
His statement read: "The decision by Connacht LGFA to dismiss Galway's objection, we believe, calls not only the integrity of this year's Connacht final into question but also that of an administration which has shown a blatant disregard for Galway ladies football with this appointment and, indeed, the spirit of the game of ladies' football.
 "We would consequently call on LGFA and Croke Park to investigate this matter thoroughly, determining as to how such an appointment could be made, and take swift and appropriate action.
"This is the fifth consecutive year Galway must travel to MacHale Park for the provincial decider and the appointment of Mr Carmody, who has mentored a number of the current Mayo senior players as Mayo minor boss between 2012 - 2013, is a gross error of judgement by Connacht LGFA.
"The Galway Ladies Board has informed us this morning that the appointment stands on two grounds - both of which we would dispute.
"The first is that Mr Carmody changed his designation two years ago - which is irrelevant given his close association to Mayo. However, it is also untrue as the LGFA national website featured Mr. Carmody in a profile as 'Mayo Referee' in September 2016, which is less than two years ago.
"Secondly, Connacht LGFA assert that Mr Carmody is the most qualified referee in Connacht. This may be the case but, in light of his previous history with Mayo, this doesn't align with the spirit of the game.
"We are disappointed that we have to do so and that we have to deal with this disruption in the week leading into the final. However, we would hope that by bringing this matter to light in the public domain that this decision would be reversed."
Most Read Stories