What they said ... the weekend in quotes
October 29, 2018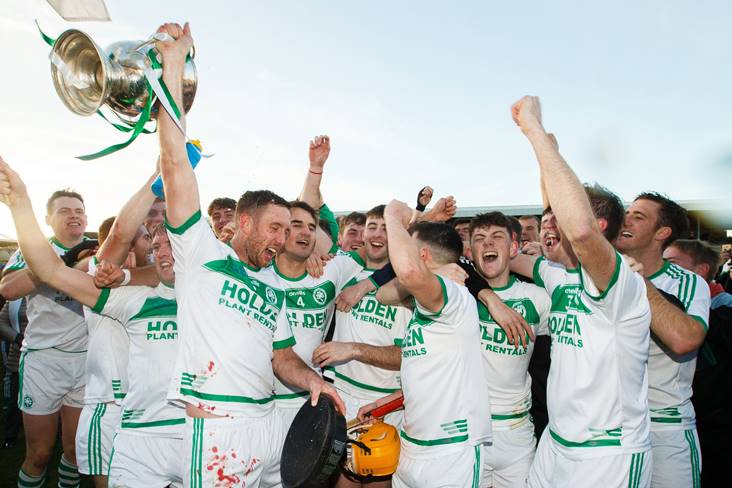 Ballyhale Shamrocks players celebrate with the Tom Walsh Cup after the Kilkenny SHC final victory over Bennettsbridge at Nowlan Park. ©INPHO/Tommy Dickson.
"It was a big motivating factor. This week we didn't speak about tactics or game plans or anything, we just spoke about bringing a bit of joy to that family and going out and expressing ourselves. We were all very conscious of it."
The tragic loss of team-mate Eoin Doyle in a motorcycle accident last April spurred Henry Shefflin and Ballyhale Shamrocks on.
"The hunger of this team is incredible, given they have been on the go for a long time. Big questions were asked today. There will be big questions again the next day."
Captain Micheal Lundy came to reigning All-Ireland Club champions Corofin's rescue in Pearse Stadium yesterday and manager Kevin O'Brien was a relieved man at the final whistle.
"I am thrilled, it's a fantastic night for our club. It's our 50th anniversary this year and to be bringing back the club title tonight, our fifth title in all, it's great."
Paul Beary and Na Piarsaigh marked the club's 50th anniversary milestone in the best possible fashion.
"It's just been phenomenal, it took us 77 years to win our fifth, this bunch of players are unbelievable, the dedication, the commitment, the hunger, the most incredible bunch of players led by Colm (Cooper) and Eoin (Brosnan). They now have the most county championships, incredible that over the last two decades (they featured in the 2000 championship win) they have been to the forefront of leadership in the team."
Selector Vince Casey was a proud man after Dr Crokes won their 13th title which sees them top the Kerry SFC roll of honour.
"We're not done yet."
Ballyboden St Enda's manager Joe Fortune is targeting provincial success after his team overcame Kilmacud Crokes at the second attempt.
"People have heard me going on about the heart and character of this team, and their work-rate, but that's what is in them. They just were not going to be beaten. They are honest. Those lads will die for you. If I asked them to train seven times a week they would do it."
Ray Keane guided St Finbarr's to the promised land in Cork.
"We know the scale of the challenge from Tony Kelly and Co - thinking about stopping him is a week's worth of work alone. It's a huge goal for us (winning a provincial title), but look at what you have to do for that. You have to beat Ballyea, a huge task and from now, our focus is on that. It's the next step."
After scraping over the challenge of Midleton yesterday, it's Clare champions Ballyea up next for Fergal Hartley and Ballygunner.
"It's not acceptable in this day and age."
The plight of Wicklow's St Patrick's – who were forced to play a county final on Saturday and Leinster Club SFC game versus Rhode on Sunday – was highlighted by Club Players Association chairman Michael Briody.
"Look, it was an incredible four weeks, an unfair four weeks. But the matches were there to be won, every single one of them. And we didn't win any, which was a killer for us. But what a year for hurling! You couldn't but acknowledge where hurling is right now. All that galls me is that we weren't in the middle of that."
Former Tipp boss Michael Ryan reflected on their failure to navigate the Munster SHC this summer.
"I'd reject the idea that the money spent in Dublin has made them what they are. Other factors than money for games' development go into putting county teams together. Kilkenny hurlers dominated for so long, but other counties kept working hard and look at where the game is now. The way to do that in football is not to nobble Dublin, but to get other counties up to their level and we're trying to do that."
GAA Director General Tom Ryan doesn't subscribe to the theory that money is the sole reason for Dublin's success.
"We don't know how the trophy ended up in the hands of the people in these photographs, but we will be talking with Dublin GAA to find out what has happened."
The Sam Maguire Cup, apparently, went missing from a New York bar during a function attended by Jim Gavin and some of his All-Ireland winning players and the GAA's Director of Communications Alan Milton revealed they will be looking into the matter.
Most Read Stories