Tom's "Wish to Walk" handball marathon a runaway success
May 09, 2016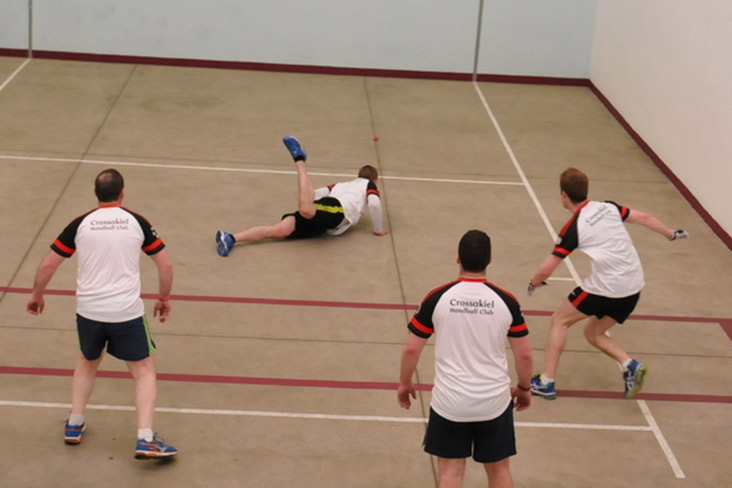 The event finished with a thrilling exhibition match between Tom Sheridan & Brian Carroll and Gary McConnell and Robbie McCarthy.

The Crossakiel handball Club organised a special 24-hour handball/racquetball marathon on Saturday/Sunday last and have already raised a staggering €8,000. 
Over a hundred players took part in the successful charity event to raise funds for Tom Lynch who is undergoing extensive treatment to be able to walk.  Irish Handball President Willie Roche was in attendance on the Saturday evening and expressed his appreciation for the club efforts in throwing themselves fully behind the fundraising initiative.

The event started at 2 pm last Saturday and continued throughout Saturday night and ended in quite spectacular style (at 2 pm the following day) with a thrilling exhibition match between Meath Senior Doubles pairing of Tom Sheridan & Brian Carroll and another Kells man Gary McConnell teaming up with reigning All-Ireland Senior Singles 60 x 30 champion in Westmeath's Robbie McCarthy. The Crossakiel youngster was treated to a special arrival to Crossakiel in the Kells Fire Engine kindly organised by well known Kells handball player Michael Sheridan.  Before proceedings got underway a special commemorative Crossakiel Club Jersey was presented to Tom Lynch by Club Treasurer Susan Farrell. 
All-Ireland Senior doubles champions in 2015 Carroll & Sheridan were narrowly defeated in the first game by 19-21.  The exhibition match was played at a whirlwind Championship pace throughout and the capacity crowd were treated to numerous passages of breath taking handball.   The legendary Tom Sheridan with his powerful left hand bombarded Robbie McCarthy's left side while Sheridan's ever reliable doubles partner Brian Carroll playing on the right was quite simply sensational. His athletic running all over the court and his great defensive play and finishing particularly in the right corner left everyone who seen this exhibition in awe of the skill and athleticism shown by all four players. As it turned out Sheridan & Carroll clawed their way back into the contest with a performance built on hard work and team play. 
The Kells duo taking the second game by 21-15.  The third game was also played at Championship pace with Sheridan's searing kills, Carroll's breath taking retrieving, McConnell's excellent defensive work while McCarthy hardly put a foot or hand wrong over the entire pulsating contest.  The huge crowd in attendance showed their appreciation to the four handball gladiators in the Crossakiel coliseum with warm applause.  Carroll was a colossus throughout the match.  Sheridan a veteran of many successful campaigns and Carroll eventually wore down the resolute McCarthy/McConnell combination eventually taking the third game by 21-13.  Judging by their performance in Crossakiel Sheridan & Carroll will be odds on favourites to regain their All-Ireland 60 x 30 doubles title which they last won in 2014.

Following the exhibition match Club Chairman Steven Quinn thanked everyone who made it a successful weekend when he described the event as "absolutely fantastic beyond expectations and phenomenal."  He thanked the huge volunteer effort with some members working themselves to a standstill.  On the Committee the club Chairman warmly praised the trio of Susan, Mark & John Farrell for their heroic efforts all weekend ensuring the event would be an outstanding success.   "They are the most hard working and decent people that I know.   The committee is working very hard and this club is very much alive." He also thanked all the sponsors too numerous to mention. Every one of them approached the club and offered their support. "As a Club we are very proud to be able to help out in this way this worthy cause."
Most Read Stories