What they said … the hurling weekend in quotes
June 10, 2019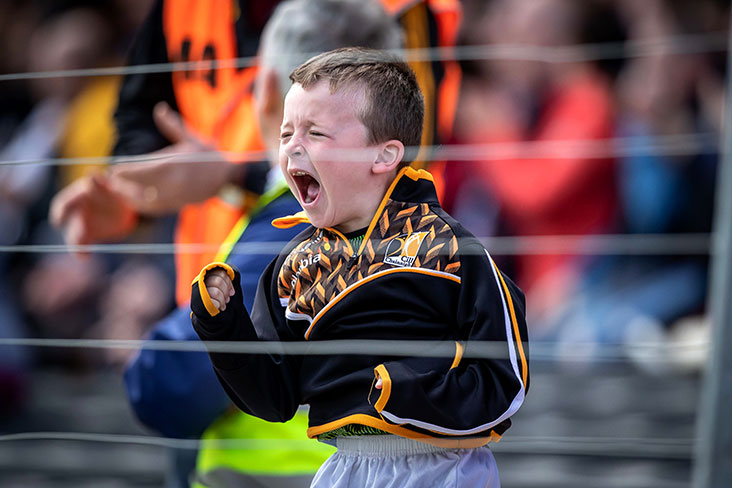 A young Kilkenny fan celebrates a goal against Galway in Nolan Park
"The implications of defeat more than focused the mind. For us, it was an inconceivable though, let alone a reality. There was no way we were going to let it go today that we were going to exit the Championship at this early stage."
Limerick didn't lack for motivation going into their make-or-break clash with Clare, according to John Kiely.
"It has been a difficult week and a difficult day today. No matter what we tried, they seemed to be able to close us down."
There were no excuses from Banner County joint-manager Donal Moloney.
"Right now we have to regroup, reflect, take some positives out of it – we know there aren't a lot of those, we're not naïve enough to think otherwise – but there are things that have to be addressed and looked at."
It has been a year to forget for Paraic Fanning and the Deise.
"I'm delighted with the performance, it matched the performance three weeks ago against Limerick."
John Meyler and the Rebels are a force to be reckoned with.
"A great game to win. This is just building blocks for us, we are not going to get carried away."
Micheal Donoghue masterminded a minimum margin victory for Galway over the Cats.
"It's ridiculous that almost every question so far has been about the referee, so you better go down and ask him yourself."
Colm Lyons' handling of the Nowlan Park encounter came under scrutiny afterwards and Brian Cody remained tight-lipped on the subject.
"My teams are built on working like dogs and tackling and fighting for everything. That was down to us no applying ourselves, if we do that against the Kilkennys and the Galways, we're dead. But when we do apply ourselves, we're a match for anyone. Maybe that's a lesson learned."
Wexford weren't at their best against Carlow as far as Davy Fitzgerald was concerned.
"It's been a long road, I think I've done as much as I can with them. At this stage it's hard to say what's going to happen, everyone needs to sit back and just see what can we do so it'll take a small bit of thinking."
Colm Bonnar's future as Carlow manager is very much up in the air.
"It's great to be where we want to be and it's what we set out to do."
Former Kilkenny star Eddie Brennan has guided Laois to the Joe McDonagh Cup decider with a game to spare.
"It's probably the most controlled aggressive performance I've seen from them since I've taken over."
Westmeath put Antrim to the sword and Joe Quaid was delighted with the manner in which his team went about their business.
Most Read Stories