What they said … the weekend in quotes
May 27, 2019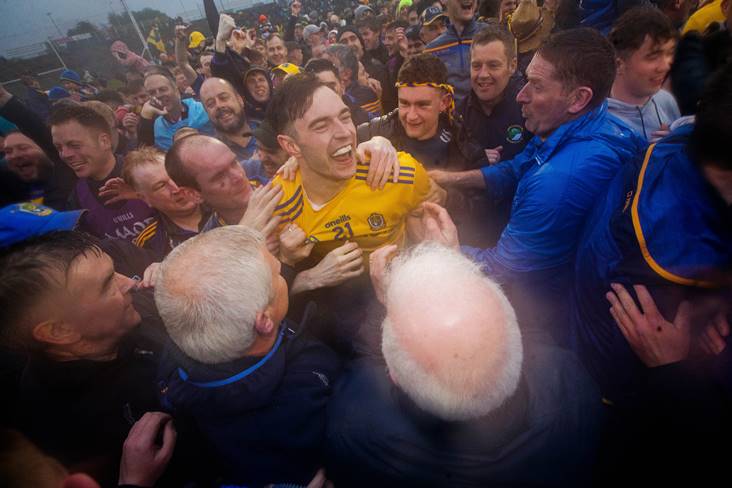 Roscommon's Andrew Glennon celebrates wih fans after the Connacht SFC semi-final victory over Mayo at MacHale Park, Castlebar. ©INPHO/Ryan Byrne.
"In fairness to our fellas, they showed a great resilience and stuck to the task. It is something we want to build on."
Anthony Cunningham guided Roscommon to a memorable semi-final win over Mayo.
"Roscommon are a very good team. They obviously got two early goals. They were two poor goals from our point of view. We did get back in the second-half, but we just could finish it out."
It's back to the drawing board for James Horan and Mayo.
"I'm actually seething at the officials again, didn't abuse him, I was making my point quite clearly that our lad was taken out off the ball. They ended up getting a score and that's not right."
Davy Fitzgerald cried foul after he was sent to the stand in yesterday's Salthill stalemate.
"With ten minutes to go, I'd have taken a draw. Huge credit to our boys, that match was slipping from us."
Fitzgerald's Galway counterpart Micheal Donoghue focused on the positive after his team let a six-point half-time lead slip.
"My initial response was I thought it was very harsh. Paul is a big man, six-foot-two, he didn't drive into the tackle, I thought he more or less stood up and he certainly got the ball. He made contact with the Louth player, but I thought at worst it would have been a yellow card."
Dublin will likely appeal Paul Mannion's red card judging by Jim Gavin's take on the incident.
"I don't think it could go any worse. Maybe if they had 15 men, but it was pretty bad from our point of view."
The Wee County were on the receiving end of a 26-point hammering and manager Wayne Kierans had hoped in advance that they would have given a better account of themselves.
"It's all systems go now. We go back this evening, get ourselves organised. It will be Tyrone now for the next 13 days and it has the makings of a real cracking match."
It was very much a case of mission accomplished for Declan Bonner and Donegal in Brewster Park and Tyrone are next on the agenda.
"The way we played would make most teams never. We turned over a lot of ball, we looked dangerous. We needed to score a goal at some point."
Rory Gallagher took some positives from Fermanagh's display.
"The lads probably knew that we weren't 100pc prepared for the Antrim game. That's the reality of it. Very few came up to see us today. Hopefully, people will come out in Tralee and support the lads against Laois."
Kerry hurling boss Fintan O'Connor issued a rallying cry to the county's small ball code supporters after his team secured a morale boosting Joe McDonagh Cup win over Westmeath.
"Kerry were hungrier than us. It'll be a test of our character to see how we react to this."
After the high of beating Offaly, Joe Quaid and his Lake County team were brought back down to earth.
"It was much better than the last day."
After their close call against Offaly last time out, Andy McEntee's Meath upped their performance for their last eight clash with Carlow.
"I never spoke one word about it but now that it's done and dusted and we've drove up the dead end, as such, it was ludicrous. My name was dragged through the media along with Turlough and Brendan. We were absolutely destroyed in the media. There was four or five national newspapers that ran articles on it."
Suspended Carlow coach Steven Poacher got plenty off his chest after the Barrowsiders' 15-point loss at the hands of the Royals.
"Westmeath were probably a little bit unlucky that one or two of their lads shots didn't glide over, but we'll take that bit of luck. We still have work to do – there's no two ways about it."
It was third time lucky in 2019 for John Sugrue and Laois against Westmeath.
"We won't be lacking focus or effort or drive – that's for certain. The lads have put in too much work just to leave it at this. We exit one competition, we enter another and we'll be putting our best foot forward."
Jack Cooney and Westmeath have drawn Waterford in the first round of the qualifiers.
"No one's more disappointed than us. Stick with us. Last year it would have been very easy to walk away and desert us after Carlow and look at the great journey we went on."
Kildare boss Cian O'Neill issued an impassioned plea to Lilywhite supporters after their draw with Longford.
"Overall, we deserved to get another crack at it."
Longford manager Padraic Davis was proud of the battling qualities displayed by his players in Tullamore.
"They didn't lie down, they came back very strongly in the second-half and showed the quality of football that they can play when they get a chance."
The Red Hand County booked their semi-final ticket with ease but Mickey Harte had some words of encouragement for Antrim.
"The gulf in class was there to see from Division One to Division Four and that's not making excuses, it's just the reality of the situation."
Saffrons supremo Lenny Harbinson gave his take on their 14-point reversal.
"There's an appetite out there within the organisation to go ahead with a Tier 2 Championship and now is the time to grab that while the appetite is out there and I think we will possibly get it through at Central Council. If we do we'll call a Special Congress in September/October to look at putting it forward to maybe having it introduced next year."
Changes are on the way to the structure of the football championship if GAA President John Horan gets his way.
Most Read Stories