Dublin's Carla Rowe hoping Mick Bohan won't be tempted by Roscommon job
September 21, 2018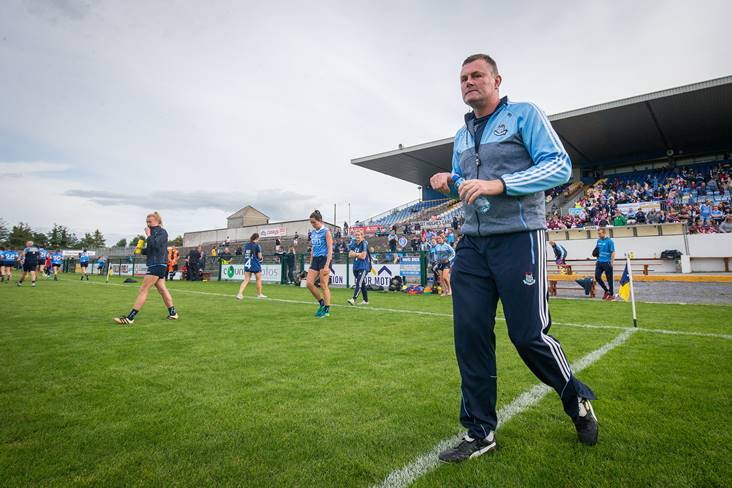 Dublin manager Mick Bohan.
©INPHO/Oisin Keniry.
by Paddy Hickey
All-Ireland ladies' final hero Carla Rowe has doubtless echoed the feelings of her Dublin teammates by expressing the wish that Mick Bohan won't be tempted to throw his hat into the ring for the Roscommon men's manager job.
In the wake of steering Dublin to last Sunday's final win over Cork, Bohan has been widely mentioned as a possible successor to Kevin McStay who recently stepped down from the Roscommon hot seat.
But Rowe, who shot two goals in the 3-11 to 1-12 win over the Rebels, is hoping that the former Dublin men's senior and under-21 coach will remain at the ladies' helm for a third year.
"Mick Bohan is a brilliant manager and he has played a massive part in helping us to win the last two All-Irelands," remarked Rowe, who has been a member of the Dublin ladies' squad since finishing up with the county minor side in 2013.
"But I can well understand the Roscommon County Board being interested in trying to get Mick in as manager of their men's team.
"His attention to detail and his ability to analyse opposing teams is remarkable, and, as well, the emphasis he has put on all the players trying to get as comfortable as possible on both feet has been a huge plus for us since he came in as manager towards the end of 2016.
"So it would be a huge disappointment, and a major setback, to all of us on the panel if Mick did decide to take on the Roscommon manager's job," added Rowe, who faces a 35 minute drive from her North County home to DCU for Dublin training sessions.
And the star wing forward from The Naul based Clann Mhuire club then went to reveal that the brace of green flags that she recorded in last Sunday's final were both shot delivered off her 'weaker' left foot.
"I'm naturally right-footed, and because of this I felt that in the 2016 All-Ireland final that the Cork players had this sussed out, and that I was very predictable because of the large-scale reliance on my right foot, she pointed out.
"But thankfully since then Mick and our management team have worked very hard in trying to bring about a situation where all the players in our panel are reasonably comfortable off their weaker foot.
"And this policy has worked extremely well for us, and in my own case I didn't give a moment's thought to shooting with my right foot when the two goal chances opened up for me last Sunday.
"This was due to the fact that I now quite comfortable on my left foot, and once I sidestepped one of the Cork players, I decided to pull the trigger with my left foot, and thankfully I hit the ball very sweetly on both occasions.
"Obviously it was a great feeling that the ball twice end up in the back of the net, and in the case of the second goal we had been just a point in front beforehand.
"And, as well, the second goal came just after Niamh Collins had made a brilliant block of the ball on the goalline after the goalkeeper had been beaten," added Rowe, who was back training with her clubmates on Wednesday night.
In the aftermath of her All-Ireland heroics, the Dublin forward is hoping to take another step towards helping Clann Mhuire graduate to the Dublin ladies' senior Championship for the first time.
"We play Clontarf in the semi-finals of the intermediate Championship on tonight (Friday), and the winners of that will meet either Cuala or Skerries Harps who meet in the other semi-final," explained Rowe, who did not start to play football until her family moved from Lusk to The Naul when she was 12.
"And the winners of the final will move up to senior status, where Clann Mhuire have never been.
"But it won't be easy for us as we have a small pool of players to pick from, and Clontarf have five or six girls who are on the Dublin panel, and they also have Siobhan Kelleher who has played soccer for Ireland."
Most Read Stories