Sigerson Cup round-up: Holders knocked out; Dublin rivals to do battle
January 19, 2020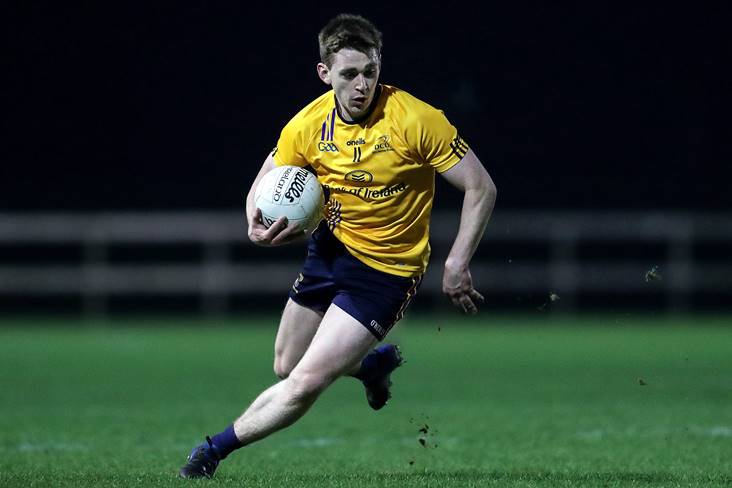 DCU's Micheal Bannigan. ©INPHO/Laszlo Geczo.
UCD and DCU set up a Dublin derby in the semi-final stages of the Sigerson Cup while IT Carlow brought UCC's reign as champions to an end.
UCD required extra-time to see off the challenge of St Mary's, Belfast on a scoreline of 2-10 to 2-6.
The Belfield scoreboard read 0-10 to 2-4 at the end of the regulation 60 minutes but extra-time goals from Ryan O'Toole and Gary Walsh swung the quarter-final contest in the home side's favour.
Micheal Bannigan helped himself to 2-4 as Paddy Christie's DCU eased to a 7-14 to 0-9 last eight victory over Queen's University.
Thomas Edward Donohoe, Kevin Flynn, Brian Stack, Stephen Smith and David Garland also found the back of the Queen's net.
UCD and DCU will square up to each other at the DCU Sportsgrounds on Wednesday (6pm) with a place in this year's final up for grabs.
There was a major surprise in IT Carlow as the home side sent reigning champions UCC packing on a scoreline of 3-9 to 0-14.
The winners laid the foundations for their success during a first-half which saw them establish a 2-5 to 0-6 interval lead.
Padraig O'Toole (2) and Evan Lowry bagged the goals while Cian Farrell top scored for the underdogs with seven points.
Their reward is a semi-final date with Letterkenny IT as Michael Murphy's charges got the better of IT Sligo by 1-14 to 1-8 in Ballinode.
Donegal star Michael Langan scored the goal for last year's Trench Cup champions while Eoin McGettigan (0-4), Darragh Black (0-3) and Peadar Mogan (0-3) were also in good scoring form for the winners.
Inniskeen GAA club will host that semi-final next Wednesday (7pm).
Meanwhile, IT Tralee preserved their Sigerson Cup status thanks to a 2-16 to 2-8 win over Athlone IT in today's relegation play-off in UL.
Former Kerry player Barry John Keane top scored for the winners with 1-4.
UCD - G O'Rourke; C O'Shea, M Breen (0-1), M O'Connor; L Flatman, S Coen, R O'Toole (1-0); B O'Sullivan, P O Cofaigh Byrne (0-1); L Fortune, B McGinn (0-1), K Kennedy; C Hartley (0-1), R Connellan, G Walsh (1-5, 0-3f). Subs: A Mohan for B McGinn, F Clifford for C Hartley, E Moloney (0-1) for L Flatman, C Moriarty for A Mohan, B McGinn for L Fortune, S Egan for B McGinn, R McCormack for F Clifford, E Harkin for K Kennedy.
St Mary's, Belfast - R Burns; C McKinney, L Rafferty (0-1), J Diamond; C McAllister, R McCusker, T Carney (0-1); L Devlin, O O'Neill (0-2f); J McCartan, R Coleman, C Kilpatrick; R McSherry, O McCabe (1-2), R Rafferty. Subs: C McConville for J McCartan, M McGleenan (1-0) for R Coleman, P Quigg for L Devlin, J McCartan for R McSherry, T Sludden for C McConville.
Referee - J Hickey.
**
DCU - E Comerford; C Morrison, B McCole, D Corcoran; K Flynn (1-1), S MacMahon, D Monaghan (0-1); J Morrissey, S Carthy; S Bugler (0-1), M Bannigan (2-4, 0-1f), B Stack (1-2); T E Donohoe (1-1), P Small (0-1), D Garland (1-2, 0-1f, 0-1m). Subs: S Smith (1-1) for T E Donohoe, T Fox for S Bugler, S Akram for K Flynn, M Barry for S Carthy, S Tierney for D Garland.
Queen's University - E Mulholland; O Lappin, A Lynch, P Fegan; D Guinness (0-1), C O'Neill, A McAvoy; D McKeever (0-1), C Higgins; R Campbell, C Gorman, T Bogue (0-1); E Fyfe, D McGurn (0-4, 1f, 1m), O Eastwood (0-2f). Subs: B Gallen for R Campbell, B Heavron for C O'Neill, C Cox for C Gorman, A Fullerton for O Eastwood, E Deane for C Higgins.
Referee - B Cawley.
**
IT Carlow - K Roche; T Collins, R Hitchcock, C Walsh; C Doyle, R Ryan, J Moore; S Ryan, A Steed; E Lowry (1-2), C Byrne, C Farrell (0-7, 5f); N Hughes, P O'Toole (2-0), J Walsh. Subs: G Murphy for A Steed, P O'Connor for R Hitchcock, T Griffin for S Ryan.
UCC - E O'Brien; C Gammell, G O'Sullivan, L O'Donovan; J McEntee, D O'Brien (0-1), P Feehan; P Lucey, B Hartnett; J Naughton, S O'Shea (0-4, 2f), C O'Callaghan; R Cunningham (0-1), K Spillane (0-1), M Cronin (0-2, 1f). Subs: D Casey (0-1) for C O'Callaghan, S Powter for P Feehan, D O'Connor (0-1) for P Lucey, D Shaw (0-3) for J Naughton, G Murphy for R Cunningham.
Referee - P Maguire.
**
Letterkenny IT - M Lynch; A Gillooly, M McAteer, N McElwaine; U Doherty, O Langan, C Bonner; M Langan (1-2, 0-1f), C Marley; R McFadden, P Mogan (0-3f), P Dolan; D Black (0-3), J O'Dowd, E McGettigan (0-4, 1f). Subs: J Campbell (0-1) for J O'Dowd, L Jackson (0-1) for C Bonner, M Duffy for R McFadden, M McAteer for D Black, J McGill for P Dolan.
IT Sligo - P O'Malley; J Haran, D Phillips, T McSkean (1-0); N Boyle, C McGloin (0-2), S Carrabine (0-5, 4f); K McBrearty, L Molloy; L Jones (0-1), A McClean, S Murphy; T Govorov, N McGovern, C Murray. Subs: C Lally for N McGovern, J Clarke for J Haran, S McGrath for C Murray, R Harkin for T McSkean.
Referee - L Devenney.
**
IT Tralee - C Hurley; M Fitzgerald, M Gavin, J Morgan; C Ferriter (0-1), S Kelliher, C Byrne (0-1); M O'Shea (0-1), S O'Connell; E Horan (0-2), J Savage, J Duggan (0-1); T Brosnan (0-6, 2f), C Keane (1-0), B Keane (1-4, 0-2f). Subs: J Myers for C Byrne, J O'Sullivan for J Duggan, M Quigley for M Gavin, P Clarke for J Savage.
Athlone IT - E Geraghty; P Nestor, A Cregg, E O'Connor; N Harte (0-1), B Sayeh, D McCabe (0-1); A Delaney, K Higgins; C Mannion (1-2), G Horan, P McManus (0-3f); D McManus (1-0), D McMahon, G Russo (0-1f). Sub: E Lyons for P McManus.
Referee - D O'Mahony.
Most Read Stories