Leinster quarter-final pairings uncannily unfamiliar
May 24, 2018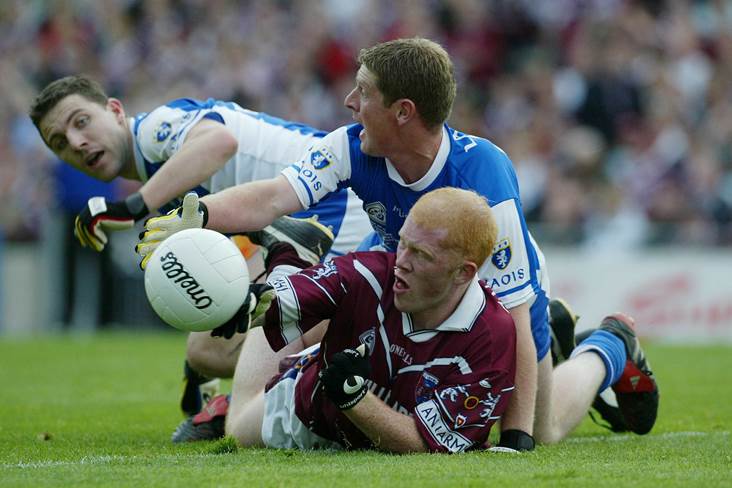 Ian Fitzgerald and Brian McDonald (Laois) with Donal O'Donoghue of Westmeath during the replayed Leinster SFC final in 2004 ©INPHO/Morgan Treacy
There's something eerily novel about the four Leinster SFC quarter-finals that are going down for decision this weekend.
With precious provincial semi-final places up for grabs, Laois and Westmeath do battle at Tullamore on Saturday evening, before three more matches throw in on Sunday afternoon: Carlow V Kildare in O'Connor Park, Longford V Meath at Pearse Park and the meeting of Wicklow and Dublin in Portlaoise.
It's 14 years since any of these teams have met each other in the Leinster championship. In the case of Dublin and Wicklow, it's been almost 30 years! Apart from the ageless Ross Munnelly, every other player on duty in Leinster this weekend will be playing against unfamiliar championship opposition.
The last Leinster SFC clash of the Dubs with their neighbours in the Garden came in 1990 when Dublin recorded a 2-14 to 0-12 semi-final victory in front of 8,000 spectators in Newbridge. This weekend's game will be the 13th time the counties have come face-to-face in the championship and Dublin have a 100% record against Wicklow.
Longford and Meath, meanwhile, are meeting in the championship for the first time in 23 years. They last time their paths crossed was in 1995 when Royals won a Leinster quarter-final tie by 17 points, 4-15 to 0-10 in Pearse Park. Evan Kelly, Brian Stafford and Colm O'Rourke were the Royal goal scorers that day. Trevor Giles, Graham Geraghty, Tommy Dowd, Ollie Murphy, PJ Gillic, Brendan Reilly and Jody Devine all raised white flags. This weekend's game promises to be a lot closer!
Carlow and Kildare have only met twice in the last 50 years in Leinster and this year's will be their first coming together since 2001, when the Lilywhites enjoyed a 0-19 to 1-11 win at Croke Park.
The most-recent meeting of any of this year's Leinster quarter-finalists was in 2004 - the Leinster SFC final between Laois and Westmeath went to a replay before Paidi O Se's Lake men recorded a never-to-be-forgotten 0-12 to 0-10 breakthrough victory at HQ. Defending champions Laois were managed by another Kerry legend, Mick O'Dwyer.
While the Leinster quarter-finals are throwing up quite novel meetings, the contrast with this weekend's Ulster, Munster and Connacht championship games is stark…
Roscommon are meeting Leitrim for the third successive season and the sixth time this decade. Derry and Donegal have squared up to one another in Ulster in 2011, 2012, 2014 and 2015 a well as a 2009 Qualifier. Down and Antrim haven't been paired together in Ulster since 2000 but faced one another in a Qualifier seven years ago. Tipperary and Cork are contesting their third consecutive Munster semi-final against each other and their fourth in five years.
In the case of Leinster, the luck of the draw has thrown up some strange anomalies.
Most Read Stories