Ladies previews: Rebelletes enter race on another bumper weekend
July 19, 2019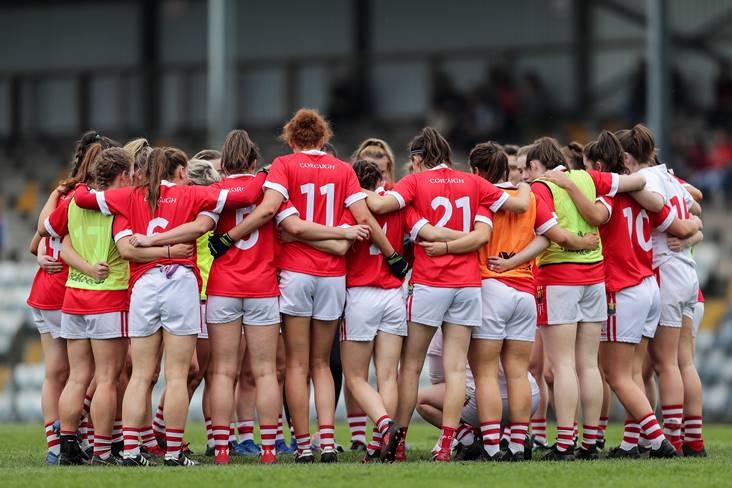 The Cork players huddle. ©INPHO/Laszlo Geczo.
Compiled by Jackie Cahill
ONE of the favourites for the TG4 All-Ireland Senior title, Cork, enter the race on another bumper championship weekend.
The Rebelettes, the reigning Lidl NFL Division 1 holders, get their round-robin series underway on Saturday against Cavan at TEG Cusack Park in Mullingar, a tie that is LIVE on TG4.
The opening game on the live double-bill is the meeting of Ulster rivals Donegal and Tyrone, while there's also a must-win clash for Monaghan and Waterford in Cremartin.
On Sunday, there's one game in the TG4 All-Ireland Senior championship, where Galway can guarantee top spot in Group 3 if they see off Westmeath.
There are a also number of crucial Round 2 fixtures in the TG4 Intermediate championship down for decision, while the All-Ireland Minor Finalists will be determined.
Clare and Roscommon meet in Saturday's All-Ireland Minor B semi-final, for the right to play Longford in the Final.
On Sunday, Cork take on Galway and Meath face Monaghan in the All-Ireland Minor A semi-finals.
Saturday 20th July 2019
TG4 All Ireland Senior Championship – Round 2
Group 4:
Donegal v Tyrone; TEG Cusack Park, Mullingar, 1.15pm (B Redmond, Wexford) – LIVE on TG4
Donegal went all the way to the All-Ireland Semi-Finals last year, and will fancy their chances of doing the same again.
They're favourites to emerge from Group 1, a pool that also contains Saturday's opponents, Tyrone, and Mayo.
This is a must-win encounter for Tyrone, who lost out to Mayo by three points last weekend, while Donegal will hope to show more of the form displayed in the Ulster Final victory over Armagh.
Victory for Donegal would ensure that they go through to the quarter-finals, and leave a clash with Mayo next weekend to determine top spot in Group 4.
But Tyrone, who will be plunged into a relegation battle if they lose, gave Donegal plenty to think about when the sides met in the preliminary round of the Ulster Championship.
Donegal (v Tyrone): A McColgan; T Doherty, E Gallagher, E Keeney; N Carr, N McLaughlin, A.M. McGlynn; K Herron, E McGinley; K Guthrie, N Hegarty, A Boyle Carr; S McGroddy, G McLaughlin, N Boyle.
Tyrone (v Donegal): S Lynch; C Hunter, J Barrett, C Conway; E Brennan, T McLaughlin, N McGirr; E.J. Gervin, S McCarroll; N Hughes, M Canavan, A McHugh; N O'Neill, C Kelly, C McCaffrey.
Group 1:
Cork v Cavan; TEG Cusack Park, 3.15pm (G Chapman, Sligo) – LIVE on TG4
Cork are many people's fancy to dethrone champions Dublin and capture the 2019 All-Ireland senior title.
There's plenty of football to be played before a potential semi-final with the Sky Blues on August 25, however, as the Leesiders begin their round-robin campaign against Cavan.
The Breffni girls are high on confidence following an epic one-point victory over Armagh last weekend, a result that looks set to ensure an All-Ireland quarter-final place.
A shock win for Cavan would guarantee top spot in Group 1, and leave Cork battling it out with Armagh for second spot next weekend.
Cork, the Lidl NFL Division 1 holders and Munster champions, will be fancied to get off to a winning start in the All-Ireland series.
Cork (v Cavan): M O'Brien; E Meaney, H Looney, S Kelly; E Spillane, M Duggan, A Hutchings; M O'Callaghan, O Farmer; Á O'Sullivan, C O'Sullivan, O Finn; E Scally, S Noonan, L Coppinger.
Cavan (v Cork): E Walsh; K McIntyre, R Doonan, S Reilly; S Greene, S Lynch, M Sheridan; N Byrd, S O'Sullivan; D English, A Maguire, A Gilsenan; C Finnegan, A Sheridan, L Fitzpatrick.
Group 2:
Monaghan v Waterford; Cremartin, 3pm (G Carmody, Roscommon)
This fixture will revive memories of some classic fixtures between the counties, particularly during the 1990s, when they met in four All-Ireland Senior Finals in five seasons.
Times have changed and now it's a must-win clash for both teams, who find themselves alongside Dublin in Group 2.
Waterford know that another defeat will see them in a relegation battle, while victory could seal a quarter-final slot.
Defeat for Monaghan would see them needing to beat Dublin next weekend and on the form we've seen to date in 2019, that's a tall order for the Farney County, who suffered relegation to Division 2 of the Lidl National League before losing to Armagh in the Ulster semi-final.
It's a massive clash in Cremartin, and defeat is not an option for both sides as they gear up for a pivotal fixture.
Monaghan (v Waterford): B Tierney; K Lambe, S Boyd, L Flynn; A McAnespie, H McSkane, N Kerr; A McCarey, E McAnespie; S Coyle, C Courtney, C McBride; E Woods, L Kerley, C McAnespie.
Waterford (v Monaghan): R Landers; C Murray, E Murray, Kate McGrath; R Tobin, Karen McGrath, A Mullaney; K Murray, C Fennell; A Wall, K Hogan, B Valuntaite; E Fennell, M Ryan, M Delahunty.
TG4 All Ireland Intermediate Championship – Round 2
Group 2:
Meath v Wicklow; Ashbourne, 2pm (J Murphy, Carlow) – Part of a double-header with Meath camogie
History in the making in Ashbourne as Meath's Ladies Footballers play on a double-bill alongside the county's camogie team.
The Royal County lost out to Tipperary in Round 1 last weekend but will fancy their chances of scoring a first victory in the round-robin phase against Wicklow.
Meath beat Wicklow in the Leinster semi-final before losing out to Wexford in the provincial decider.
Wicklow drew with Longford last weekend and will feel they need a win here to remain in the hunt for a knockout spot.
Meath: M McGuirk; K Newe, S Powderly, O Duff; A Cleary, S Ennis, M Thynne; M O'Shaughnessy, K Byrne; O Lally, E Duggan, O Byrne; B Lynch, K Nesbitt, V Wall.
Wicklow: K Connors; E Horan, S.J. Winders, A Gillen; L Fusciardi, A Maher, T Dowling Costello; A Gorman, S Delahunt; J Kinch, L Ahern, M Deeney; M Kealy, L Hogan, S Miley.
All-Ireland Minor B Semi-Final
Clare v Roscommon; Tuam Stadium, 2pm
Clare and Roscommon will battle it out at Tuam Stadium for the right to face Longford in the Final.
Roscommon have 2017 Connacht Young Player of the Year Kelley Colgan at centre half back.
Clare: M Glynn; S Lillis, R McNamara, A Kenny; S McMahon, S Morrissey, S Ní Chonaill; N Conlon, S Ní Cheallaigh; A Sexton, R Ferguson, A Cunningham; A Reidy, A Lenihan, C McMahon.
Roscommon: H Martin; R Mulligan, S Wynne, A Walsh; E Kildea, K Colgan, K McPhilips; S McVeigh, K Nolan; M McKeon, K Shine, E Irwin; A O'Connor, K Harrington, O Kelly.
Sunday 21st July 2019
TG4 All Ireland Senior Championship – Round 2
Group 3:
Westmeath v Galway; TEG Cusack Park, 1pm (N McCormack, Laois)
Galway got over the line with four points to spare against Kerry in Round 1.
But manager Tim Rabbitt and his backroom team will look for improvement against Westmeath – and deeper into the All-Ireland series.
Semi-finalists last year, Galway will top Group 3 and assure themselves of a quarter-final slot if they can get the better of Westmeath, who they beat comprehensively in the 2018 Championship.
Westmeath will aim to make life difficult for Galway, as they did against Dublin in the Leinster Final before the Sky Blues claimed a victory that was slightly flattering on the scoreboard at full-time.
Westmeath's aim is to close the 26-point gap that existed between the sides last summer, while Galway will want to get the job done and focus on the knockout stages.
Galway (v Westmeath): D Gower; S Molloy, S Burke, O Murphy; N Ward, B Hannon, C Cooney; L Ward, Á McDonagh; O Divilly, M Glynn, M Seoighe; T Leonard, L Hannon, L Coen.
Westmeath (v Galway): L McCormack; R Dillon, J Rogers, L Power; K Boyce Jordan, K McDermott, F Coyle; J Maher, M.A. Foley; S Dolan, A Jones, N Feery; L Slevin, F Claffey, V Carr.
TG4 All Ireland Intermediate Championship – Round 2
Group 1:
Down v Limerick; St Mary's, Burren, Warrenpoint, 2pm (P Burke, Louth)
Both of these sides suffered big defeats last weekend, and need to bounce back quickly.
Limerick lost out to Kildare by 10 points, while Down suffered an 18-point reverse at the hands of Sligo.
A win for either side here would revive hopes of making the knockout stages – and boost flagging confidence levels.
Down: R Kelly; E Martin, K White, E McArdle; O Duffy, C Mulvenna, M Kavanagh; A Keown, O Lavery; L Cunningham, J Foy, S Dougherty; A McKee, M Doherty, N Ferris.
Limerick: R McGuinness; R Daly, A Hartigan, K Reidy; M O'Shea, N Ryan, C Mee; L Hanley, C Ní Cheallaigh; R Ambrose, R Delee, I Kenneally; O Giltenane, M Kavanagh, C Davis.
Sligo v Kildare; Kilcoyne, Tubbercurry, 2pm (J Gallagher, Westmeath)
After scoring opening round wins, Sligo and Kildare will both fancy their chances of emerging from Group 1.
This clash, then, could well turn into a shoot-out to determine who tops the group.
When the sides met in Division 3 of the Lidl National League, Sligo won by six points.
Sligo: N Gormley; C Dunne, M McNamara, J Mulligan; N Brennan, B Byrne, K.A. Henry; R Goodwin, L.A. Laffey; S Regan, S McTiernan, S Naughton; E O'Reilly, E Kevany, C Gorman.
Kildare: D McGinn; R Cribbin, L Gilbert, S Kendrick; C Sullivan, S Munnelly, T Duggan; S O'Sullivan, G Clifford; L Curran, N Dooley, A Rattigan; E Dowling, O Sullivan, M McKenna.
Group 2:
Tipperary v Longford; Sean Treacy Park, Tipperary, 1pm (S Curley, Galway)
Tipperary blasted out an ominous statement of intent last weekend as they put six goals past Meath.
Another victory for the Premier County on home soil, and against more Leinster opposition in the form of Longford, would have them well set for a quarter-final slot.
Longford drew with Wicklow in Round 1 last weekend, and will aim to make life difficult for the pre-match favourites.
Tipperary: L Fitzpatrick; L Spillane, M Curley, E Cronin; B Condon, S Lambert, C Kennedy; A McCarthy, A.R. Kennedy; N Lonergan, A Moloney, L Dillon; C Condon, A McGuigan, A Carey.
Longford: E Esler; C Farrell, E O'Brien, L Gallagher; M Moore, O Nevin, E Heaney; M Reynolds, A McCormack; A McDonnell, M Farrell, C Healy; K Shannon, A Greene, A Darcy.
Group 3:
Laois v Clare; O'Moore Park, Portlaoise, 2pm (S McNulty, Wicklow)
Clare suffered what would have been viewed by many as a surprise setback against Wexford last weekend.
But the Slaneysiders are reigning Leinster champions and were full value for the win.
Clare will hope to bounce back against Laois, in what is now a must-win game in a three-team group.
Laois: F Kelly; A Kelly, C Dunne, M Young; M Cotter, E Healy, L Nerney; A Moran, A Healy; E Fitzpatrick, S Costello, C Simms; M Nerney, A Kehoe, E Lawlor.
Clare: Ciara Harvey; A Keane, E O'Gorman, G Harvey; C O'Leary, L Ryan, S Ní Chonaill; O Devitt, E O'Connor; R Considine, A Considine, Caoimhe Harvey; G Nolan, N O'Dea, F Marrinan.
Group 4:
Offaly v Roscommon; Bord na Móna O'Connor Park, Tullamore, 2pm (J Devlin, Galway)
Offaly open their campaign against Roscommon, who had a big win against their Connacht rivals Leitrim in Round 1.
Roscommon, the Connacht champions, will be fancied to top this group, which would see Leitrim and Offaly battle it out for second place.
A victory for Roscommon will guarantee a safe passage to the All-Ireland quarter-finals.
Offaly: L Dunne; A Carey, A.M. McCormack, E Nally; N Byrne, A Gavin Managan, A Kehoe; E Maher, F Stephens; M Byrne, J Byrne, R Ennis; A Stafford, D Hannon, S Cummins.
Roscommon: H Cummins; H Ennis, A McLoone, N Feeney; J Cregg, A Kelly, S Bruen; S Kenny, L Fleming; S Tully, A Hanmore, N McHugh; R Finan, J Higgins, R Fitzmaurice.
All-Ireland Minor A semi-finals
Cork v Galway; MacDonagh Park, Nenagh, 2pm
Finalists for the past two years, Cork and Galway meet at the semi-final stage in 2019.
Galway won last year's Final and Cork won't need reminding that Andrea Trill scored a hat-trick of goals at the Gaelic Grounds, and will wear the number 14 shirt on Sunday.
But Cork are an excellent team in their own right and they have Ellie Jack, an All-Ireland Senior Club medallist with Mourneabbey in 2018, in their starting line-up.
Cork: S Murphy; R Ní Chorcora, E Baker, R Sheehan; E O'Shea, I Sheehan, C Keane; E Mullins, A O'Mahony; F Ahern, J Murphy, C Dooley; E Jack, K Quirke, F Keating.
Galway: E Glynn; S Fahy, C Crowe, H Reddington; H Noone, K Geraghty, S Healy; N McPeake, L Aherne; A O'Rourke, C Miskell, M Hynes; L Meehan, A Trill, A Morrissey.
Meath v Monaghan, Kingscourt, Co. Cavan, 2pm
It's going to be a busy weekend for Orlagh Lally and Emma Duggan.
The pair will line out for Meath on Saturday in the TG4 All-Ireland IFC against Wicklow, before turning their attentions to Sunday's All-Ireland Minor A semi-final against Monaghan.
Free-scoring Duggan is a player that Monaghan will have to keep a close eye on, as the Farney girls aim for a first All-Ireland Minor A Final appearance since 1999.
Meath, B winners in 2018, have never played in an All-Ireland A Final.
Meath: E.J. White; S O'Kane, M.K. Lynch, O Smith; K McCarthy, O Lally, A Farrell; S Wall, P Reilly; O Gore, M peters, S Lynch; M Byrne; E Duggan, S O'Rourke.
Monaghan: C Duffy; C Brennan, M Monaghan, A Garland; E Traynor, J Duffy, L Garland; A McAnespie, M Linden; C Ward, A Loughman, J Duffy; S Sherlock, J Drury, M Greenan.
Follow the hoganstand.com match tracker this weekend for live coverage of Dublin v Roscommon, Cork v Tyrone, Kerry v Donegal and Mayo v Meath from the Super 8s.
Most Read Stories