GAA asks clubs and volunteers to support the elderly
March 27, 2020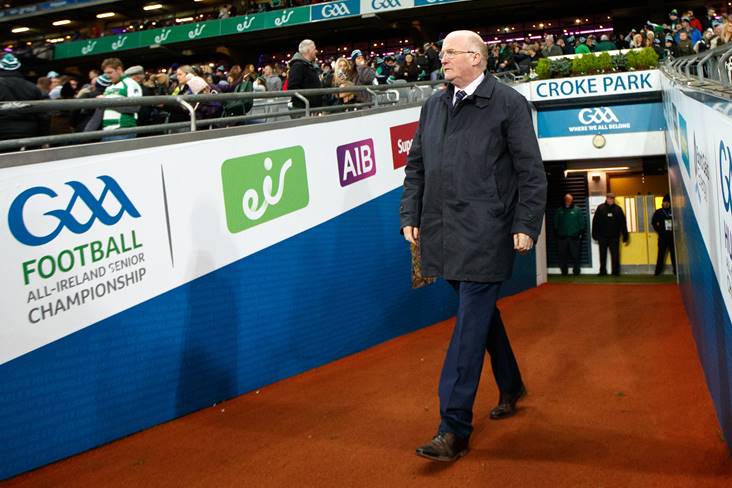 GAA President John Horan. ©INPHO/James Crombie.
The GAA has encouraged clubs to work together with retailers to help support the vulnerable and isolated during the Covid-19 emergency.
Already most GAA clubs nationwide have organised themselves to look after people within their communities who are unable to leave their houses to get shopping or medical supplies.
Club members have been working on rotas, travelling to local shops and pharmacies.
The GAA is now working with two of its championship sponsors - Supervalu and Centra - to organise a scheme called 'Club Together'. However, clubs are still free to work with other retailers as well.
In a statement today the GAA said: "SuperValu, Centra and the GAA have come together to launch a new initiative, to support the elderly in our communities, during these unprecedented times. 'Club Together' aims to capitalise on our unique community spirit, by helping our elderly who do not have family and friends around to support them.
To get the new programme up and running, SuperValu, Centra and the GAA are making an urgent appeal to GAA Clubs across the country, to volunteer to be part of Club Together. GAA clubs are calling on their members to join a local task force to assist the elderly, who are dependent on the goodwill of others for their food shopping needs."
GAA President John Horan said; "This is a testing time and one when the oft-mentioned virtues of the GAA's Community ethos needs to come to the fore. This is happening already and through this most worthwhile initiative it will continue to happen, making a positive tangible difference to those in our communities who may need assistance. I am strongly encouraging our clubs and members to look at this initiative and to throw their weight behind it."
Most Read Stories