What they said … the football weekend in quotes
July 22, 2019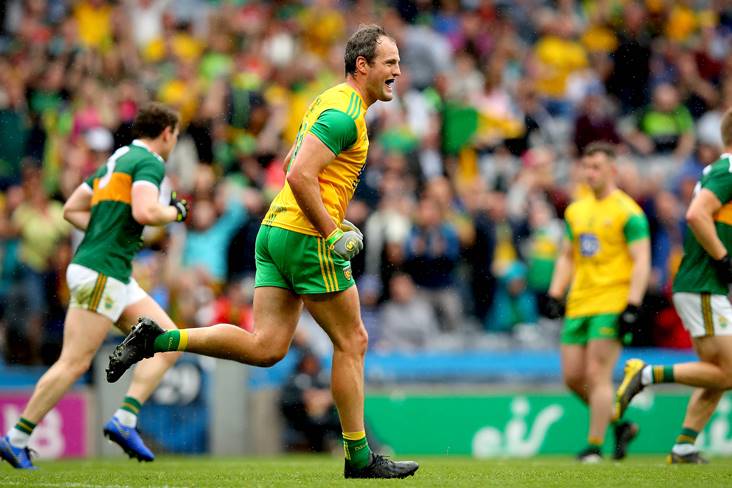 Donegal's Michael Murphy celebrates after scoring a penalty during the drawn All-Ireland SFC quarter-final phase 2 clash against Kerry at Croke Park. ©INPHO/Ryan Byrne.
"I'm not going to talk about injuries, sorry."
Declan Bonner refused to reveal details on injured trio Eoghan Ban Gallagher, Paddy McGrath and Neil McGee.
"I'm not doing an Arsene Wenger on it but I just didn't see it."
Kerry boss Peter Keane couldn't shed any light on substitute Tomas O Se's late red card offence.
"That's what keeps us all going, isn't it?! There's a number of ways to win a game. The odd boring shi**ty one would be fine as well."
There's never a dull moment with James Horan and the Mayo footballers.
"Maybe we just got a little bit tight when we saw the finishing line, they weren't difficult chances, you'd expect fellas to get them but it is hard work out there Maybe mental fatigue as much as physical fatigue sets in at that stage."
There was a sense of déjà vu surrounding Andy McEntee and Meath's defeat to Mayo.
"That's never in the script when you go out to play anybody, so it is a shock to the system when it happens, but the good thing is these players were able to deal with it and bounce back with something very positive."
Mickey Harte was pleased how his Tyrone players responded to conceding two goals in the opening half against Cork.
"You win together and you lost together, but they'll stick together, and I think that is the key thing. In relation to the Roscommon game, we are at a point where we can't turn our nose up at any game."
Ronan McCarthy is hoping that Cork can round off their Super 8s participation with a win on home soil against Roscommon.
"We'd be a number of years off their physicality. As well as that, they've a huge football brain. They've massive athleticism, speed, a strong midfield. Their goalie is probably the most exceptional goalie on kick-outs and has transformed the whole kick-out mantra over the last 10 years."
Anthony Cunningham summed the gulf in class that exists between his Roscommon team and the five-in-a-row chasing Dubs.
"Any time the guys go on the field to represent Dublin we expect that they do their very best. So our focus is now on that Tyrone game."
Judging by Jim Gavin's comments, Dublin won't be travelling up to Omagh just to make up the numbers.
"With the performance of a few of the fellas out there I think the future is bright for Kerry football."
Jimmy Keane guided the Kingdom to a fifth All-Ireland JFC success in-a-row against Galway on Saturday.
Most Read Stories