Annual Dubs Stars games take place next Saturday
December 14, 2018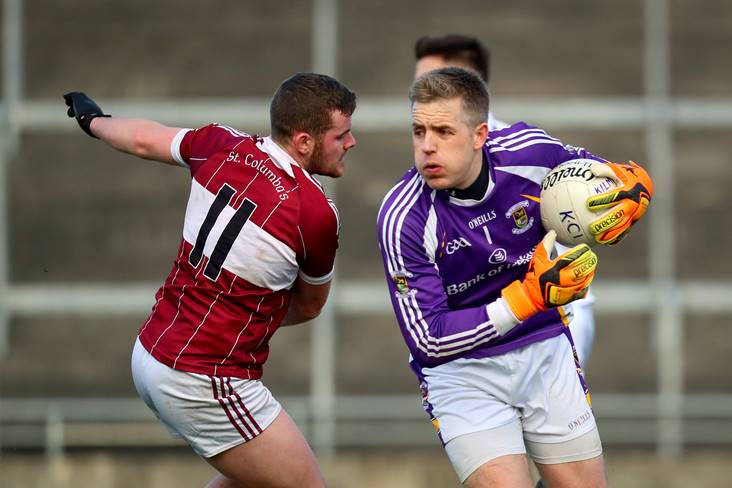 Kilmacud Crokes' David Nestor with James McGivney of Mullinalaghta
County champions Kilmacud Crokes will have seven players on the Dubs Stars football team to play All-Ireland champions Dublin in the annual Dubs Stars game next Saturday, December 22.
David Nestor, Liam Flatman, Andrew McGowan, Cian O'Connor, Craig Dias, Shane Horan and Paul Mannion are included in the selection, which also features county stars Kevin McManamon and Dean Rock.
Ballyboden St Enda's have six players - David O'Connor, Simon Lambert, Niall McMorrow, Paul Ryan, Conor Keaney and Aidan Mellett - on the Dubs Stars hurling team to face Mattie Kenny's Dublin.
The Naomh Barrog club will host the two games tomorrow week at 12 noon (football) and 1.30pm (hurling). Admission is €10 with U16s free.
2018 DUBLIN BUS/HERALD FOOTBALL TEAM OF THE YEAR
Goalkeeper: David Nestor (Kilmacud Crokes)
Right Corner-Back: Liam Flatman (Kilmacud Crokes)
Full-Back: Andrew McGowan (Kilmacud Crokes)
Left Corner-Back: Adam Fallon (Thomas Davis)
Right Half-Back: Cian O'Connor (Kilmacud Crokes)
Centre Half-Back: Chris Guckian (St Jude's)
Left Half-Back: Tom Lahiff (St Jude's)
Midfield: Craig Dias (Kilmacud Crokes)
Midfield: Mark Sweeney (St Jude's)
Right Half-Forward: Shane Horan (Kilmacud Crokes)
Centre Half-Forward: Colm Basquel (Ballyboden St Enda's)
Left Half-Forward: Kevin McManamon (St Jude's)
Right Corner-Forward: Paul Mannion (Kilmacud Crokes)
Full-Forward: Ryan Basquel (Ballyboden St Enda's)
Left Corner-Forward: Dean Rock (Ballymun Kickhams)
Subs: Liam Mailey (St Jude's), Aran Waters (Ballyboden St Enda's), Ger Brennan (St Vincent's), Seán Bugler (St Oliver Plunkett's/Eoghan Ruadh), Stephen Smith (Skerries Harps), Tomás Quinn (St Vincent's), Micheál McCarthy (St Sylvester's)
2018 DUBLIN BUS/HERALD HURLING TEAM OF THE YEAR
Goalkeeper: Matt Colins (Kilmacud Crokes)
Right Corner-Back: David O'Connor (Ballyboden St Enda's)
Full-Back: Bill O'Carroll (Kilmacud Crokes)
Left Corner-Back: Cian Mac Gabhann (Kilmacud Crokes)
Right Half-Back: Darragh O'Connell (Cuala)
Centre Half-Back: Ryan O'Dwyer (Kilmacud Crokes)
Left Half-Back: Simon Lambert (Ballyboden St Enda's)
Midfield: Lorcan McMullan (Kilmacud Crokes)
Midfield: Niall McMorrow (Ballyboden St Enda's)
Right Half-Forward: Paul Ryan (Ballyboden St Enda's)
Centre Half-Forward: John Hetherton (St Vincent's)
Left Half-Forward: David Treacy (Cuala)
Right Corner-Forward: Conal Keaney (Ballyboden St Enda's)
Full-Forward: Marc Howard (Kilmacud Crokes)
Left Corner-Forward: Aidan Mellett (Ballyboden St Enda's)
Subs: Dara de Poire (St Vincent's), Ross O'Carroll (Kilmacud Crokes), Shane Durkin (Ballyboden St Enda's), Fergal Whitely (Kilmacud Crokes), Conor Burke (St Vincent's), Niall Ryan (Ballyboden St Enda's), Colin Currie (Na Fianna)
Most Read Stories