LGFA release brilliant promo video for All-Ireland championships
July 11, 2018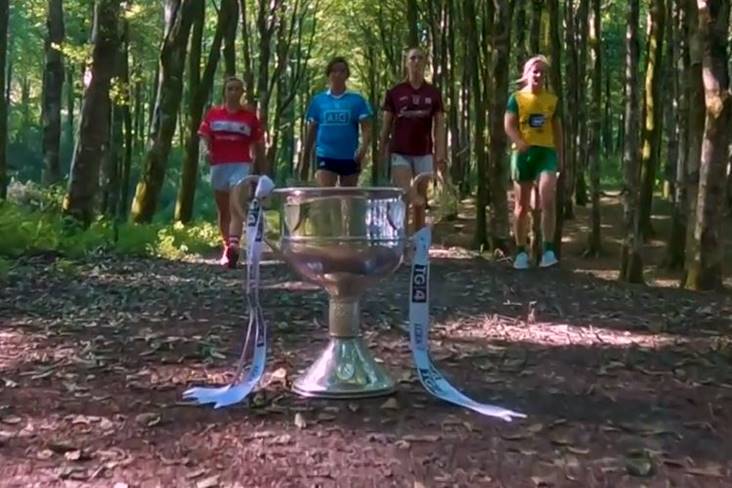 Melissa Duggan (Cork), Niamh McEvoy (Dublin), Áine McDonagh (Galway) and Karen Guthrie (Donegal) all feature in the LGFA's promotional video for the 2018 TG4 All-Ireland championships.
WE are back for another bumper season of TG4 All-Ireland championship action!
And this promotional video put together by the Ladies Gaelic Football Association (LGFA) should get you in the mood for what lies in store.
The video features Cork defender Melissa Duggan, Galway's rising star Áine McDonagh, Dublin ace Niamh McEvoy and Donegal's inspirational skipper Karen Guthrie.
These four provincial champions harbour genuine hopes of climbing the Hogan Stand steps on September 16 to accept the Brendan Martin Cup, the big prize on offer for the 2018 TG4 All-Ireland senior champions.
Captain Neamh Woods also features from Tyrone, one of the leading contenders for intermediate glory, while Cathy Mee and Limerick should have a big say in the race for the junior title.
TG4's LIVE coverage begins on Saturday, July 14, with a senior double-header from St. Tiernach's Park in Clones.
Ulster rivals Armagh and Monaghan clash in Group 2 at 12.30pm as the revamped round-robin qualifier series gets underway, before Cavan face-off against 2017 runners-up Mayo at 2.15pm.
TG4 recently announced a four-year extension of their Ladies Football Championship sponsorship, and they've committed to screening 17 games during the 2018 summer campaign.
The inter-county season will conclude on September 16, when Croke Park hosts the TG4 All-Ireland junior, intermediate and senior finals.
Tickets are on sale NOW: http://lgfa.tickets.ie/Listing/EventInformation/38549/tg4-ladies-football-finals-2018-croke-park-16-September-2018
Most Read Stories