Mannion planning on being primed for semi-final
July 10, 2018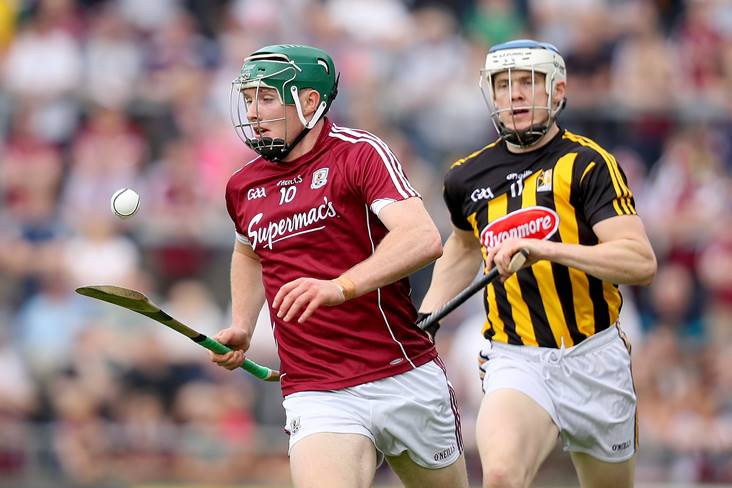 Galway's Cathal Mannion with TJ Reid of Kilkenny.
©INPHO/Oisin Keniry.
by Declan Rooney
Galway danger man Cathal Mannion says his side will not be resting up for the next three weeks as they seek to iron out the creases in their game ahead of the All-Ireland semi-final.
Galway looked unstoppable at times in Semple Stadium on Sunday as they claimed victory over Kilkenny in a frantic encounter, but they will have significant concerns about how Brian Cody's side whittled down their 12-point lead to just one with 15 minutes remaining.
But to their credit Galway finished strongly, with Mannion to the fore, and with two of his six points coming in the last ten minutes he played a huge role in getting his side across the line.
Defeat means Kilkenny are back in action again next Sunday against Limerick, but the Ahascragh/Fohenagh forward is keen to keep the pressure on as Galway seek to perfect their 70 minutes.
"I suppose it probably is (nice to have a break) after a hard two games in a row. We have loads to work on and we are going to concentrate on the things that we need to work on from today from last week. It is going to be a tough three weeks ahead for us," said 23-year-old Mannion.
"You could see at the end there. Everyone was out on their feet, the heat would take it out of you, as well as the pace of the game, it was probably a step up from last weekend again.
"Every game you go into, you learn a lot from it. We learned a lot last week and we learned a lot today as well. But again, there is going to be bigger days ahead and in regard to the semi-final, no matter who we have, it is going to be a step-up from today."
The big decision ahead of the replay was Micheál Donoghue's ploy to start Jonathan Glynn ahead of Conor Cooney, a move that paid rich dividends for Galway as he inflicted massive damage on Kilkenny early on.
Jason Flynn also had to be content with a place on the bench, round robin star Brian Concannon didn't get a look in after his midweek efforts with the U-21 team, while Davey Glennon was also an unused sub. With Glynn back in the fold, there is huge weaponry at Galway's disposal now.
"Obviously, yeah. Johnny is a massive player for us, delighted for him that he got his chance. He really deserved it.
"Look, it is about the team and on the panel, you need lads driving you. You don't mind who starts, obviously you would like to start yourself, but you know the lads in for you or the lad coming on for you is going to do a job too. That is what you need in a team
"I suppose it is just one of those days that everything you hit went over. But it was a team performance and the lads that came in really drove it on as well. We're delighted with it."
Most Read Stories