Munster Club SFC: Dalton puts a dent in Newcastle West's ambitions
November 10, 2019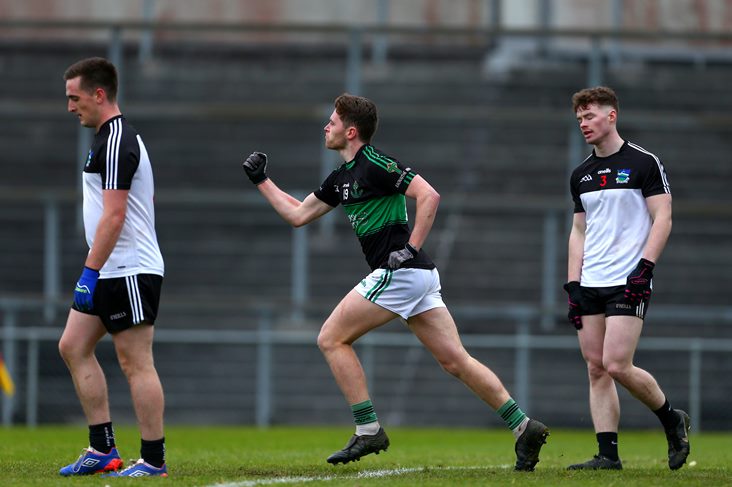 Newcastle West players dejected as Ciaran Dalton celebrates his goal for Nemo Rangers
Ciaran Dalton's goal proved to be the difference as Nemo Rangers edged out Newcastle West in today's quarter-final fixture at Mallow.
Dalton found the back of the Limerick side's net in the 33rd minute and the Cork giants scraped home on a scoreline of 1-9 to 0-9.
A low scoring first-half finished with Nemo 0-6 to 0-4 to the good before Dalton pounced for the game's all-important score.
With Iain Corbett very much to the fore, Newcastle West continued to ask questions of their more illustrious opponents but they were unable to bridge the gap.
Luke Connolly took the scoring honours for the winners with 0-5, three of which came from open play.
Nemo Rangers - M Martin; B Murphy, A O'Reilly, A Cronin; K O'Donovan (0-1), S Cronin (0-1), J Horgan; A O'Donovan, J McDermott; C Dalton (1-1), P Kerrigan, C O'Brien; L Connolly (0-5, 1f, 1'45), M Cronin (0-1), C Horgan. Subs: K Fulignati for J Horgan, R Dalton for C O'Brien.
Newcastle West - M Quilligan; M O'Leary, M O'Keeffe, D O'Doherty; W Hurley, S Hurley, S Brosnan (0-1); S Murphy (0-1), I Corbett (0-3); B Hurley, AJ O'Connor, T Quilligan (0-1f); E Hurley (0-3, 2f), M McMahon, J Lee. Subs: B Nix for AJ O'Connor, L Woulfe for W Hurley, D Kelly for B Hurley, J Kelly for M McMahon, B Foley for E Hurley.
Referee - P O'Sullivan.
Most Read Stories