Parsons blown away by 'magic' reception
June 11, 2018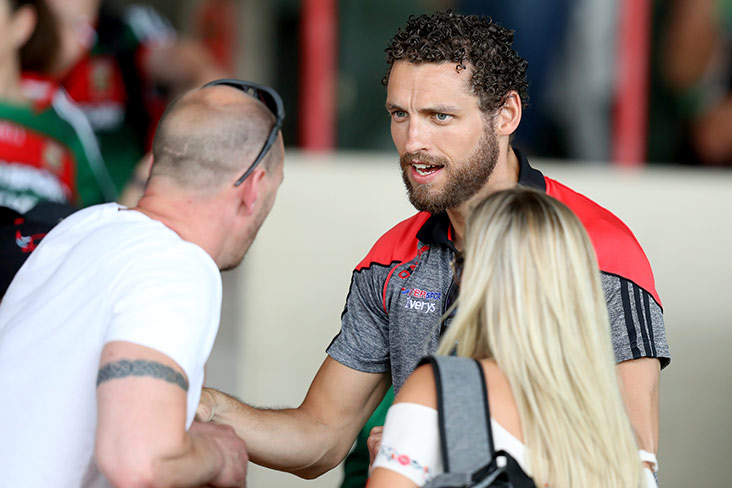 Tom Parsons attends the Mayo versus Limerick qualifier at the Gaelic Grounds
Injured Mayo midfielder Tom Parsons has described the reception he received at the Gaelic Grounds last Saturday as 'magic'.
The Charlestown clubman received a standing ovation as he took his place in the stand for Mayo's All-Ireland football qualifier win over Limerick. His season was ended last month by an horrific leg injury sustained against Galway in the Connacht SFC quarter-final.  
"Travelling up to the game I had this sick feeling in my gut. Seeing the guys come off the bus and going into the dressing room and I'm going the opposite way to the stand," he said in an interview with RTE's Darren Frehill after being a special guest for this morning's All-Ireland football qualifier Round 2 draw.
"It was nearly a reality check 'oh I'm not going to play today' but I had a magic reception from the Mayo supporters and it was really welcoming.
"It settled me and I felt really at home and enjoyed the game then. The players put in a big performance.
"It was really good for me to get a game and get out of the house. It can be tough the first time you meet people in your sporting environment again but for me it was a special experience."
Parsons, who is facing further surgery on his knee, is expecting Tipperary to provide a stern challenge for Mayo in the next round.
"Tipperary are a very strong team. They did very well in Division 2 and were probably unlucky not to get promoted," he said.
"They would have been disappointed with their performance against Cork but it was a week after playing Waterford. They're going to be a very big challenge for us. It's a tough draw."
Most Read Stories