What they said ... the weekend in quotes
September 17, 2018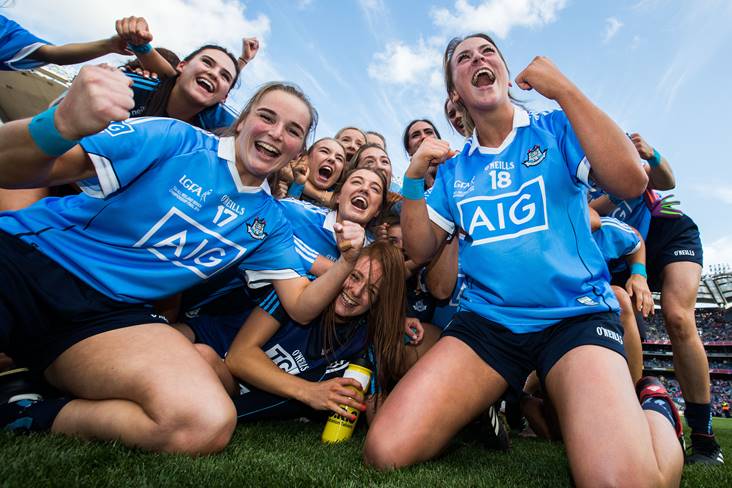 Dublin players celebrate after the All-Ireland Ladies SFC final victory over Cork at Croke Park. ©INPHO/Tommy Dickson.
"When we came in we felt that they (Cork) were the standard bearers and to take the crown we would have had to take them out. And that's said with massive respect to them because they brought the game to that level and it has been our goal to set a standard higher than them."
Mick Bohan and the Jackies inflicted a first All-Ireland senior final defeat on Cork.
"You lose an All-Ireland it's going to be raw for a few days. I've the utmost respect for the Dublin girls, and in their defeats they took it very graciously and that's what we have to do as well."
Bohan's Cork counterpart Ephie Fitzgerald was magnanimous in defeat.
"It's just amazing, I never thought we'd be here getting back-to-backs, never mind last year. It's just so overwhelming, I can't believe it!"
The Player of the Match accolade was an added bonus for Dublin's two goal hero Carla Rowe.
"Honestly, I can't even put it into words how amazing this is and the girls have worked so, so hard. It's just testament to everything that they have done over the last 12 months."
Tyrone captain Neamh Woods netted two goals in their Intermediate triumph over Meath.
"I am so proud of the girls that they actually stuck to the game plan. We worked on it all week. We had the Gaelic Grounds for training compliments of the Limerick County Board which was excellent for us. We tried to use the width of Croke Park and it worked today. We got the vital scores at the vital times."
John Ryan guided the Treaty County to junior glory at Louth's expense.
"Unfortunately my work commitments involves a considerable amount of overseas travel and it will not be possible for me to continue in this role."
Pat Gilroy dropped a bombshell last night when announcing his departure as Dublin senior hurling manager after just one year in charge.
"I regret his departure but appreciate the huge sacrifices he has made over the year for Dublin GAA. The committee will commence the process of considering suitable candidates to replace Pat and his management team shortly."
The process of finding a replacement for Gilroy will start shortly, according to Sky Blue chairman Sean Shanley.
"Some smart assed journalists running with the unrest story made a laugh out of the statement that I made as I was leaving. I wrote it to reflect all the people who had done so much work for our county, for me as their manager over the three years. But, there are smart asses everywhere."
Kevin McStay wasn't happy with some of the reporting surrounding his departure as Roscommon senior football manager.
"I probably tried to hit it too hard and I kinda mis-hit it a little bit. If I connected sweetly with it, it would have went over. It dropped in the square. There was only another three or four yards or whatever and that's the frustrating thing. If I had have connected sweetly, who knows? But it would have been daylight robbery."
Joe Canning reckons he should have scored the late free that would have drawn last month's All-Ireland hurling final.
Most Read Stories