LGFA, camogie and rugby players in Crosscoders AFLW camp
May 17, 2019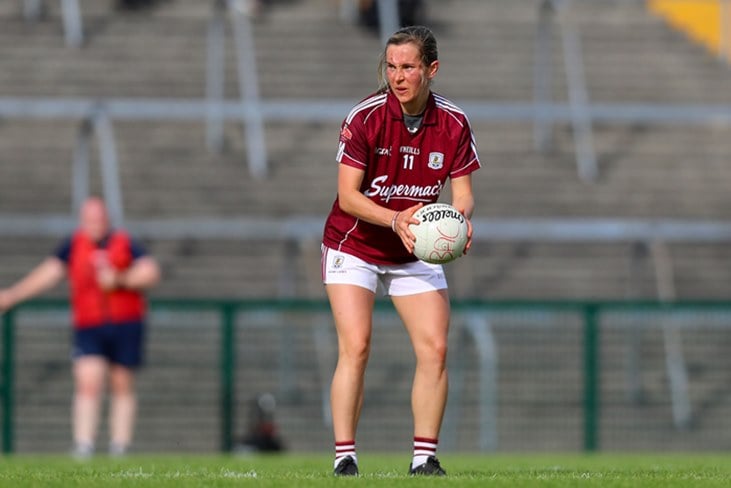 Galway star Tracey Leonard
by Daragh Ó Conchúir
The so-called Irish Invasion of the AFLW is set to continue, with a Crosscoders camp taking place in Athlone until Sunday.
While the majority of the 30 players being put through their paces are ladies footballers, rugby and camogie are also represented, while a number of English-based athletes and one each Croatia, Germany and Canada are participating as well.
A number of them have already had contact from clubs in the expanding Aussie rules league and will be looking to cement deals over the coming days.
Niamh Kelly, Grace Kelly, Orla O'Dwyer, Kate Flood and Áine Tighe, who have recently put pen to paper on contracts to play in next season's competition, will also attend the camp.
Donegal, who have already had Yvonne Bonner starring for GWS this year, have three representatives in Athlone (Eimear Gallagher, Kate Kearney and Katy Herron), while Galway have four (Róisín and Tracey Leonard, Mairéad Seoighe and Noelle Connolly).
Players from Kerry, Longford, Down, Clare, Sligo, Westmeath, Louth and Fermanagh are also participating but it is notable that no-one from the Cork and Dublin strongholds has been tempted since Cora Staunton blazed the trail in 2018.
Tipperary star Mary Ryan and Kildare's Paula Keatley have been invited from camogie, while Áine Staunton (Munster) and Louise Cody (Portlaoise) are rugby players.
Senior coach of Fremantle's AFLW team, Trent Cooper said that the manner in which the Irish contingent have taken to the new professional game Down Under makes recruiting more of their compatriots attractive.
"We've got our eye on a few girls that we think could make the grade, so we're heading across there to have a good luck at them and see what else is out there as well" said Cooper earlier this week.
"We're probably looking for the best available talent but at the same time, we're definitely gonna need some tall players, particularly someone that can play in the ruck, and maybe a power top forward as well.
"So we're looking for a bit of height and athleticism, which they have a lot of in the Gaelic game over there.
"It's a very strong competition in Ireland. They're brought up playing the game from a very young age and have gone all the way through.
"The girls that have come across so far have been very impressive: Cora Staunton at GWS, Sarah Rowe this year at Collingwood and Ailish Considine, who (won) a Premiership for the Crows, so the girls have adapted very quickly.
"So we wanna jump on that bandwagon and hopefully recruit a couple that can go really well for us."
Irish-based triallists: Áine Staunton (Munster Rugby / Tipperary Ladies), Carmela Morey (Dublin Angels AFL / Newbridge Colts AFC / Leinster Rugby), Eimear Gallagher, Kate Kearney, Katy Herron (Donegal Ladies), Fiadhna Tangney (Kerry Ladies), Joanne Doonan (Fermanagh Ladies), Johanna Maher (Westmeath Ladies), Kate McKay, Kim White (Down Ladies), Kodie McEneaney (Louth Ladies), Lauren Boles (Sligo Ladies), Louise Cody (Portlaoise Rugby), Mairéad Seoighe, Noelle Connolly, Róisín Leonard, Tracey Leonard (Galway Ladies), Mary Ryan (Tipperary Camogie), Michelle Farrell (Longford Ladies), Paula Keatley (Kildare Camogie), Sarah Bohannon (Clare Ladies / West Clare Waves AFL).
Most Read Stories