Exiled Mayo ladies hit back at Leahy in lengthy statement
September 18, 2018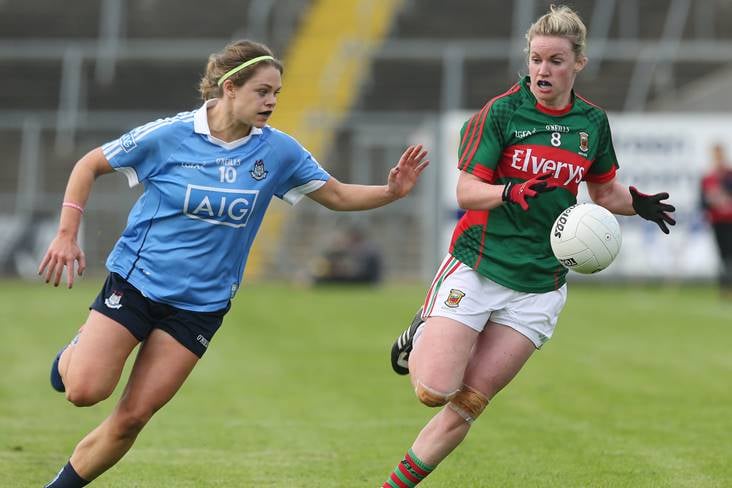 Dublin's Noelle Healy tackles Fiona McHale of Mayo.
©INPHO/Lorraine O'Sullivan.
The twelve players and two coaches who left the Mayo ladies football squad in July have released a statement confirming "player welfare issues" as the reason for their departure.
Manager Peter Leahy last week hit out at eleven-times All Star Cora Staunton's claims that the panel was not a safe environment to be in, stating that "some of the players weren't happy with my selection, simple as that".
However, the 14 exiles have broken their silence on the matter this morning.
As well as releasing the statement, the players also held a press conference, which was broadcast on RTE, with vice-captain Fiona McHale stating that "some people were not given feedback, some people directly asked for feedback off the manager and they were not given it."
Captain Sarah Tierney added: "To disregard our emotions as feelings in his podcast the last night is so, so disrespectful. The issues are much more sensitive, much more complex, less understood."
The statement in full reads:
To begin we want to acknowledge what a great day Sunday was for ladies football; the crowd, standard of football and we offer congratulations to all six teams involved.
We as a group of fourteen people, the twelve players and two members of management who stepped away from the Mayo senior ladies set up in July 2018 would like to address the issues around our actions. We have remained silent until now and appreciate that this left a space for speculation and rumour; we take responsibility for that. We had always hoped that our story would come out in a respectful, private setting but at this stage feel that we have no choice but to represent ourselves to ease our own conscience and to hopefully close the public discourse on this matter.
Firstly, we want to be clear that regardless of timing or language or delivery of the message to leave the Mayo set up, all fourteen of us can categorically state that we left for the same reasons. These reasons were in relation to player welfare issues that we witnessed or experienced in our time with the set up. We would like to be clear to everyone that these were not due to selection issues nor to one or two players. Everyone involved in county panels, including us twelve players, are hugely competitive and of course want to be playing on the starting fifteen. However, to suggest that any player would encourage or expect a team mate to leave a panel because they were not on a starting fifteen, or indeed, that a player would leave because of such a request, is hugely disrespectful to us all as athletes and people.
Secondly, our reasons for stepping away from the Mayo panel were related to player welfare issues that were personal, and were sensitive. Specifically, a number of players but most notably our captain Sarah Tierney has endured an extremely difficult relationship with the Mayo manager over the 2018 season. Ultimately our issues related to a lack of communication, being undermined, intimidated, feeling isolated and eventually helpless in the entire situation. The whole experience had a significant impact on our mental health. We used the terms 'unhealthy' and 'unsafe' and accept, and take responsibility for the implications of this language but for us, these are relevant terms and stepping away was the right decision. We will be judged for our decision but this was extremely important to us and something we had to take a stand on. There is now widespread acceptance that player welfare is much more than having a physio, proper strength and conditioning, good pitches. We fought long enough for these basic conditions, and thankfully over the last few years, we have not had an issue with them - and equally in 2018 we had a good set up. Our issues were broader and deeper and dismissing them as 'feelings' is extremely unhelpful and careless. We made a decision for ourselves, as amateur players, who absolutely love our sport, to step away from it. This decision was not taken lightly and our intention was never to cause upset for anyone rather to protect the wellbeing of each other.
We appreciate that not every player may have experienced or witnessed these issues and also we appreciate that a number of us did not address these fully with the rest of the Mayo panel. Despite this, many of the remaining panel did attend a players meeting on Saturday July 7th and did agree that there were issues at play. Secondly, an opportunity for all of the departed players and current players to sit down and discuss the situation on Sunday July 8th was ultimately pulled by the county board and others. In addition, mediation, which was another opportunity for engagement and agreement (even to disagree) was hindered by what we believe was an unfair process.
At this point, we are completely disillusioned and our attempts to remain dignified after such a significant decision have been undermined. When we raised our issues they were dismissed, when mediation failed we were let go and now we feel we are being portrayed as weak, hysterical, hyper sensitive people when in reality we made a choice for ourselves, and felt strong enough to do so. What does the reaction say to people who want to ever speak up, who ever want to raise an issue that this is how we handle it? We must be able to tell all players that their opinions, their feelings and their experiences matter. We must be able to listen when they have a problem with structures in place. We must not publicly shame them or indeed ban them from doing what they love before we hear what they have to say properly and before we consider player welfare in its truest sense.
We do appreciate that all parties have been affected, especially our fellow team mates. They have expressed this and now we have too. One of the saddest outcomes of the whole thing is that there has been a serious strain put on friendships. We were within our rights to walk away from something that we felt was wrong and whatever people may ultimately think, we were pushed to a stage where the right option, the healthy option, was to remove ourselves. Finally, we have been and will continue to be proud Mayo people. We have been privileged and honoured to represent Mayo and always will only want the best and have the highest expectations for anyone who takes to the field in a Mayo jersey.
We hope this answers the questions which have been in the public sphere and we as a group hope that this will bring an end to a very tough time in all our lives. We do not wish to comment any further.
SIGNED
Sarah Tierney, Fiona McHale, Denise McDonagh, Shauna Howley, Marie Corbett, Cora Staunton, Elaine Murphy, Doireann Hughes, Martha Carter, Amy Dowling, Saoirse Walsh, Sadbh Larkin, Orla Conlon, Michael McHale
Most Read Stories