"This app is one of those 'one per cents' that they can now add to their training"
June 21, 2018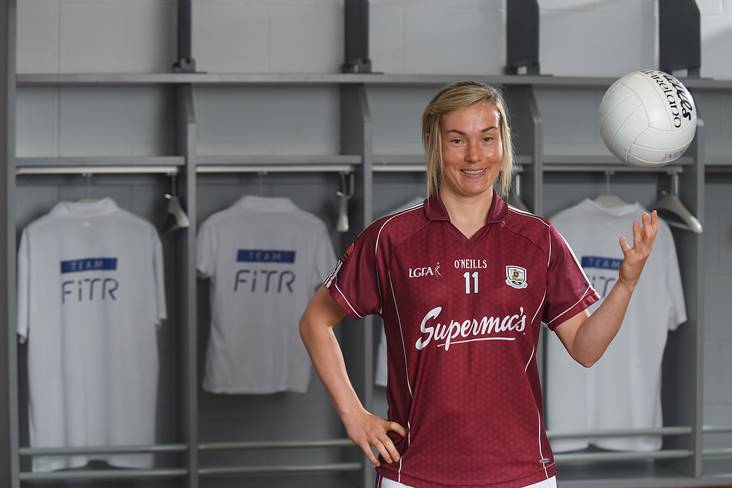 Galway's Tracey Leonard at the launch of the LGFA's partnership with Orreco's FitrWoman app.
By Cliona Foley
AN app to help players tailor their training and nutrition during their menstrual cycle could provide that 'one per cent' critical difference that top Ladies Football stars are now chasing in their bid to win an All-Ireland.
That was the reaction from some of the country's top stars when their governing body, the LGFA, formed a partnership yesterday (Wednesday) with the app developers Orreco, which will give all their players free access to the groundbreaking FitrWoman app.
The players personally confirmed Orreco's international research, which has found that more than half of woman are embarrassed by their period and almost 75% of women aged 16-24 stop playing sport during it.
TG4 All-Ireland winner Noelle Healy revealed that two Dublin clubs have changed from white to navy shorts in order to help their players feel less self-conscious about it.
"Foxrock-Cabinteely were the first club I know that did it," said Healy, the 2017 Senior Players' Player of the Year. 
"They found that periods, and an awkwardness about them, was one of the reason some of their girls had stopped playing. They made the change a good few years ago and my own club, St Brigid's, did it last year."
Periods have been described as the last taboo in women's sport with even professional athletes reluctant to talk about their effect in training or during big competitions.
Healy explained that she has often seen teammates so badly affected that they've had to come off in big games.
"This app is a good way of tracking your period but there's also so much useful information in it," she said.
"It shows that you'll benefit from certain types of training at certain points of your cycle and what foods to eat as well. You lose a lot of iron which can massively affect your performance in training or a match."
Galway's Tracey Leonard, a nurse by profession, said the app will make women "much more aware of when they can best perform during their menstrual cycle and will also help with injury prevention.
"As women become more aware of what they can and cannot do around their period it will have a very positive effect," added Leonard, who will captain the Tribeswomen in next Sunday's TG4 Connacht senior final against old rivals Mayo. 
"Every game we go out now is a big game. The standards in women's inter-county football have gone so high that teams are constantly looking to getting that 'extra one per cent'. I think this app is one of those 'one per cents' that they can now add to their training.
"This app will also help players to have that conversation with their team managers and trainers," she added. "I think there will be massive interest in it, even at club level."
Orreco, founded in Ireland in 2010, has put two decades of research into the FitrWoman app which is designed to give women a competitive edge during their period by tailoring their training and nutrition to their hormonal changes during it.
Sonia O'Sullivan was among the first athletes to use it and it is now used by world-class athletes across a range of sports globally.
Most Read Stories