Ladies Leinster IFC: Back to the drawing board for Royals
June 04, 2018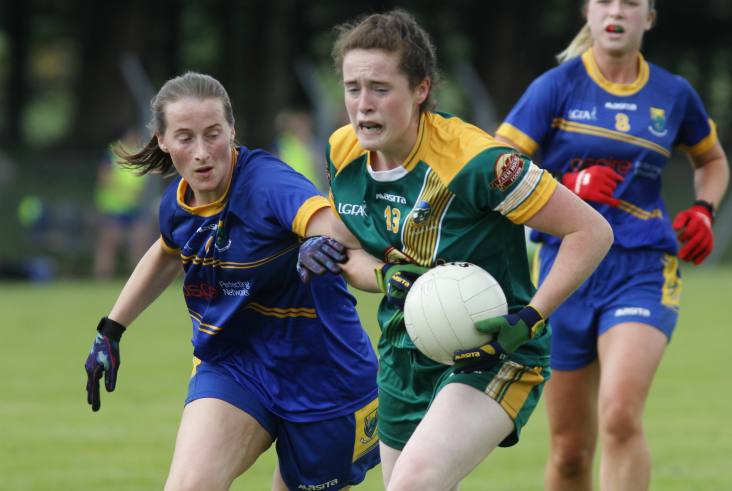 Wicklow's Sarah Hogan with Marion Farrelly Meath during the Leinster Ladies IFC game at Roundwood
Wicklow 2-17 Meath 2-15
Well I never saw that one coming but I should have. Championship football is the ultimate leveler. Summer is in, the sun is high, the grass is green and the pitch hard. The space is compressed as the link between brain, foot and hand goes into overload. Those who can master those variables tend to come unscathed from the battle. For others, the match simply passes them by. That folks is Championship football. Merciless!
The league lured us Meath followers. Almost Rolls Royce stuff, easing through the gears and scoring for fun. Three defenders on the Division 3 League Team of 2018 as well, the graph was rising. In hindsight the Wexford League final defeat laid down a marker. A final has silver and a finality. The lesson from that final was a simple one. Every inch was contested, every blade of grass counts. Decisions need definition inside milliseconds. Any hesitancy is punished. Severely.
The picturesque GAA Grounds in Roundwood framed with a lovely stand and blue skies was witness to a battle. Wicklow, League 4 champions against Meath who wanted to put their own league final defeat behind them. Where better than travel to Wicklow and lay down a marker. Only problem was that possibly was Wicklow's game plan as well. What defined Meath throughout their league campaign was their movement of ball through the hand, running off the shoulder. A menacing sight to behold. We had it for the first ten minutes in Roundwood but it was Wicklow who went through those motions.
After seven minutes Meath were three points down but it was the possession that Wicklow had was worrying. I, ensconced in the stand, looked to see which way the wind was blowing. It was negligible but the fact I was looking for it indicated that Wicklow were already in a driving seat. Monica McGuirk made two point blank saves as Wicklow flung the sink early. Kate Byrne worked her socks off in the middle, blocking down twice as she quickly realized that Wicklow meant business. Wicklow had a number of players that flagged early that they were leaders. Lorna Fusciardi at 7, Meadhbh Deeney and Laura Hogan who roamed up front, threatened serious damage.
At half time Wicklow led 1-9 to 0-7, that's five points to claw back leaving the Royal management with issues. Who'd be a manager, a lonely place when your remit is on the wrong side of the white line? I texted my friend "Wicklow will tire in the second half". They didn't but the Royal ladies hit the deck running. A long ball into the edge of the square saw centre back Shauna Ennis flattened for a penalty. Stacey Grimes dispatched it with aplomb, Fiona O'Neill kicked a fine point, Meath were firing on all cylinders. Marion Farrelly fired in a great goal. Meath were ahead. Vikki Wall slalomed through with a point. But Wicklow clung on.
And that's what Championship football is all about, clinging on, hanging on, running and chasing even though your lungs scream. So what was the difference between the teams then? Well anyone who was there will have an opinion and I doubt if any of us will agree. Wicklow tended to shoot from distance at times, not bringing the ball into contact. In the first half Jackie Kinch kicked a massive long range point for them coming up to half time. Other forwards went long as needed. But sometimes the damage is done in a place you don't initially spot. Lorna Fusciardi's second half display from left half back kept Wicklow honest and into the Meath half back line.
Wicklow substitute Claire Walshe went on a run that ended with a low shot into the net. Meath's gap was now cut. Fergies words chimed in my head, "squeaky bum time" had arrived in Roundwood. Amazingly Wicklow took off Fusciardi but her replacement kicked a fine point and was blessed with real pace. She kept Meath's back six in their own trenches. Now we were down to those inches we read about. In reality the inches are composed of calm heads, sensible possession and working until the chance was on. Wicklow did it better. Standing beside Meath suspended star Bláthnaid Keogh as the final minutes ticked away, we hoped for extra time but Wicklow knew that to ensure a famous win, they had to win it in normal time. A two point gap was preserved and the referees whistle went as the ball was still in the Royal defence.
Going through the Meath team I find myself in a funny place. Monica McGuirk was outstanding. When you lose two corner backs the calibre of Katie Newe and Sarah Powderly before the start you expect trouble but Emma Peel and Niamh Lister were immense. Sixteen year old Orlagh Lally gave a master class at full back, brave and taking the fight to Wicklow, Orlagh left it all on the pitch. The half back line for the first time in my experience, met three half forwards of ability and adventure but each Meath girl did her bit. The midfielders matched their rivals with Byrne blocking and scoring a point. Five of the six starting forwards scored. The inside line scored 2-8, the outer line 0-4. Aoibhin Cleary booted two fine points from half back. So any regrets then, what could have been done better?  It's back to the individual. Each Royalette did well singularity but it's to Wicklows credit that they prevented Meath from combining into a team with menace.
We live in a world where we want answers to everything immediately. Sometimes you meet opponents that are your equal and little things like an inspirational point or run by Wicklow last sub Saoirse O Reilly tilts that grain of rice against you on that given day. It can be as tight as that. Or could it be the assuredness of Deeney as she took her frees from the floor but then Meath's Stacey was equally accurate from the hand. Maybe it's in the Stars, maybe today wasn't meant to be painted Green and Gold. No matter, it's back to the drawing board. This is where those who really want it are separated from those who maybe want it. Time for the bench to bark. Disappointment is a dangerous antidote; too much of it is contagious.
Meath scorers: M. Farrelly & S. Grimes 1-2 each, F. O'Neill 0-4, N. O'Sullivan, A. Cleary, V. Wall 0-2 each, K. Byrne 0-1.
Wicklow scorers: L Hogan 1-3, C Walsh 1-1, M Deeney 0-4, A Murphy 0-3, L Ahern and N McGettigan 0-2, S Reilly and J Kinch 0-1.
Meath: Monica McGuirk, Michelle Peel, Orlagh Lally, Niamh Lister, Aoibhin  Cleary, Shauna Ennis, Niamh Gallogly, Maire O'Shaughnessy, Kate Byrne, Megan Thynne, Niamh O'Sullivan, Vikki Wall, Marion Farrelly, Stacey Grimes, Fiona O'Neill. Subs: Emma White
Wicklow: Kim Connors, Emily Mulhall, DJ Winder, Aoife Gillen; Alana Conroy. Sarah Hogan, Lorna Fusciardi; Niamh McGettigan & Sarah Miley; Meadhbh Deeney, Jackie Kinch, Laura Ahern; Marie KeaLy, Laura Hogan, Amy Murphy. Subs: Claire Walsh, Saoirse O Reilly.
Referee: Des McEnery Westmeath
Most Read Stories