Interfirms success "right up there" for O'Brien
May 29, 2018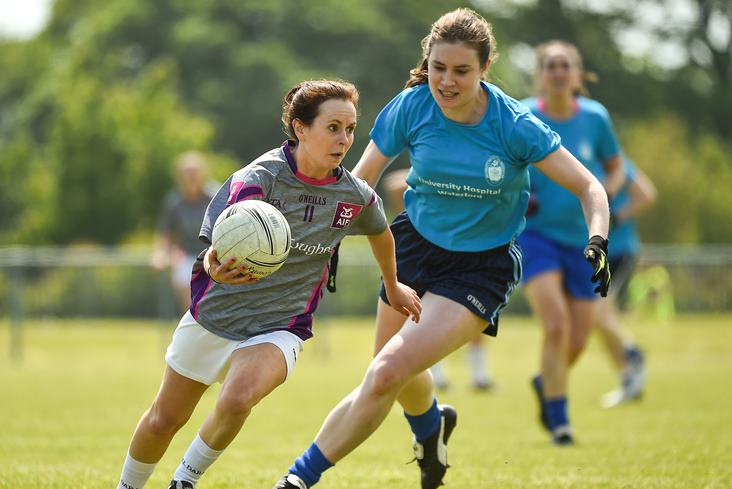 Dymphna O'Brien on the attack for AIB
Limerick legend Dymphna O'Brien rates winning an LGFA Interfirms medal with AIB "right up there" with anything she's achieved over the course of a glittering career.
O'Brien struck a stunning winning goal on Saturday as AIB defeated An Garda Síochána by 2-4 to 2-2, in what was a repeat of last year's final between the teams.
For O'Brien and AIB, it was a second successive Interfirms title and the Gerald Griffins player was overjoyed to play a key role.
O'Brien, a 2010 TG4 All-Ireland junior medallist with Limerick, said: "It's right up there with any All-Ireland medal or any of the medals I've won.
"I got the chance to play with a group of girls I'd never have got the chance to play with otherwise, including Cork's Annie Walsh, who has eight All-Ireland senior medals.
"It's a great way to build relationships within the organisation that you're working for, and to build up a network.
"It was a really enjoyable day for us and good fun.
"We were delighted to win it last year and over the moon to win it again.
"We went up with the intention of winning back-to-back titles and that's what we did."
O'Brien noted: "The standard was higher than last year. We just happened to have a good strong group playing at club level but with a bit of training, every organisation can get to that level.
"This competition is sustainable and something that can grow.
"Everything was run brilliantly, there were no delays and it went so smoothly."
From early in the day at Naomh Mearnóg in Portmarnock, it became clear that An Garda Síochána and AIB would be in the shake-up for final glory.
In the Shield Decider, University Hospital Waterford ran out winners against the Irish Prison Service, before AIB defeated An Garda Síochána in the Cup final.
In total, seven companies competed for Interfirms glory - Glanbia,
An Garda Síochána, AIB, Mergon International, St Kevins CC, Dunlavin (Wicklow), The Irish Prison Service and Waterford Hospital.
In addition, the following 9 teams took part in the recreational blitz: Glanbia, Boston Scientific (Clonmel), Baker McKenzie, Pramerica (Donegal (x 2)), Cadet School (Irish Defence Forces), Irish Prison Service, Pallas Food, Baxter Healthcare (Mayo).
For further details, contact Aisling Doonan: [email protected]
Most Read Stories