Daughter of former Kilkenny Mayor spearheading ladies football charge in Marble County
May 24, 2018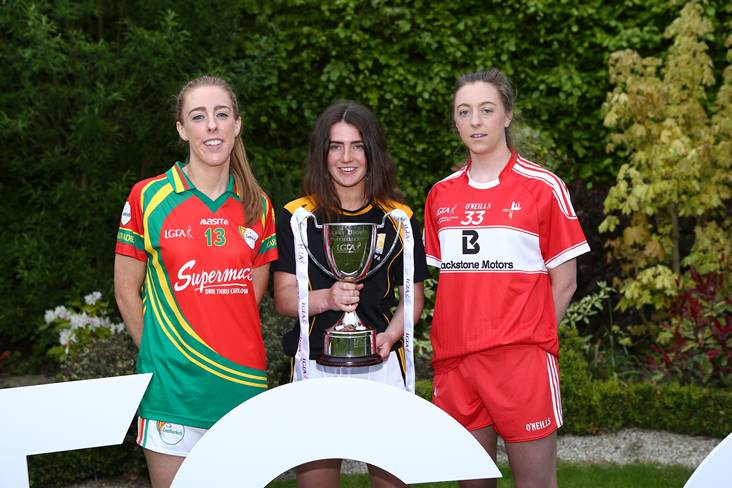 Kilkenny will be looking to defy the odds against Carlow and Louth
by Kevin Egan
It takes a unique type of person to want the challenge of a leadership role with a Kilkenny football team, given the significant challenges that any team from the Marble county faces in trying to gain traction against the religious fervour with which they worship hurling and camogie in that part of the world.
It doesn't take long to realise that Caoilfhionn Horgan is just such a person.
It's probably no surprise that the daughter of a former Mayor of Kilkenny would be cut out for leadership, and it's even less surprising that someone born in Waterville in South Kerry would be more than a little talented at gaelic football.
What's perhaps more remarkable is her insistence that while she herself comes from an area renowned for producing some of the best footballers ever seen, she firmly believes that girls from Kilkenny should have no inferiority complex when facing anyone on the football field, and that all they need is a level playing field in terms of preparation.
"Camogie just comes first all the time in the county, which is understandable, they're achieving so much," says Horgan, who was speaking at the recent launch of the TG4 Leinster championships.  
At junior level, Kilkenny will be looking to defy the odds against Carlow and Louth.
And Horgan says: "We are trying to push on with the football, and if we get everyone playing, we'll be well able to compete.
"We have a few coming back now for the championship from sixth year, girls that have been on Leinster interprovincial school teams. They are fabulous players.
"I play with UCD myself and you realise quickly that coming from a county like Kilkenny doesn't mean you aren't just as good as everyone else, it just means you sometimes don't get the same opportunities".
Horgan has first-hand experience of what it takes to guide a Kilkenny team to success, having coached the Kilkenny City Féile team to glory in Monaghan last year.
 "I'm training the girls myself with two others, that team proved themselves against competition from all across Ireland, and we could do the same, you never know," she says.
"Football is definitely developing in the county.
"The younger girls are much stronger than what we have. Our senior players are lacking at the moment, 16 of the 22 that come to training every week would still be minor which is a huge factor, but they would be very strong.
"We have four or five on the inter-provincials, so they can play. But they are all on the camogie panels as well. That tends to take over, but hopefully the girls that are doing really well at the football will stay going at it.
"Our Féile team does look really strong but they are so far off the mark because they're so young.
"But our managers are putting a lot of time into us as well. We are really grateful for that, and you never know, we could be the dark horse of the competition."
League results would suggest that they are very much dark horses, but Horgan expects that the championship story might be a bit different if they can get their best team on the field.
"We got quite a hammering last year off Carlow in the Leinster final.
"We came up against a few teams in the league where we actually felt we were going strong enough but we ended up falling apart because we didn't have the whole team together as one.
"But now with everyone together in the championship, there is a huge opportunity.
"Also, we're guaranteed a second match, it's not a clear knockout. Carlow are very strong and that match might put us back a little bit but we will have all of our Leaving certs in the second match and it might look up at that stage."
Most Read Stories