HL2A round-up: Westmeath continue to set the pace
February 17, 2019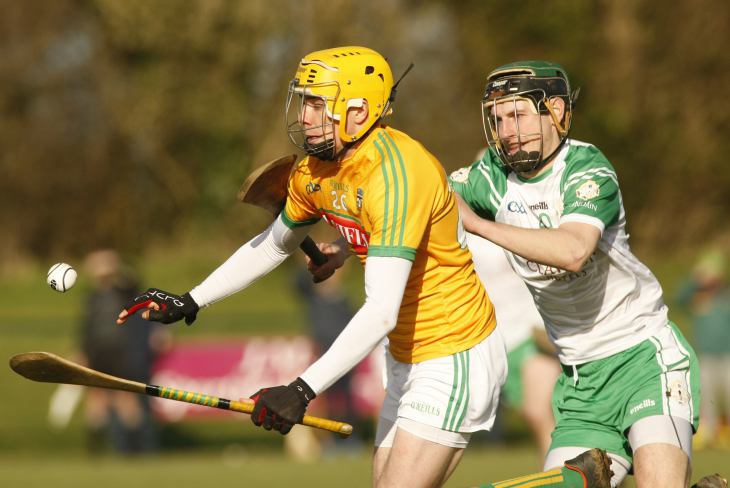 Meath's Eamon Ó Donnchadha with Oisin Royston London during the NHL Div 2A game at Trim
Unbeaten Westmeath maintained their push for promotion with a two-point victory over Antrim today while there were also wins for Kerry and Meath.
The Lake County secured their third win on the trot at the Saffrons' expense on a scoreline of 1-17 to 1-15 at Corrigan Park.
Meanwhile, the Kingdom experienced little difficulty in disposing of the Mayo challenge by 18 points while Meath enjoyed a 3-16 to 3-10 success over London in Trim.
Allianz HL Division 2A round 3
At Trim
Meath 3-16
London 3-10
At Austin Stack Park
Kerry 3-18
Mayo 0-9
At Corrigan Park
Westmeath 1-17
Antrim 1-15
Westmeath - P Carroll; D Egerton, T Doyle, G Greville; A Craig, A Clarke (0-1), P Greville (0-1); C Boyle, S Clavin (0-2); R Greville, K Doyle (0-2f), J Boyle; A Devine (1-5, 0-4f), D McNicholas (0-5, 2f, 2sl), D Clinton. Subs: N Mitchell (0-1) for D Clinton, S Power for C Boyle, C Doyle for A Devine, S McGovern for S Clavin.
Antrim - R Elliott; S Rooney, J Dillon, P Duffin; M Donnelly, S McCrory, C McHugh; C McCann (0-1), N McKeague; N Elliott (0-1), J McNaughton (0-11f), K Rice (0-1); E O'Neill, K Molloy (1-0), C Clarke. Subs: N McManus (0-1) for C Clarke, J O'Connell for K Rice, E Campbell for P Duffin, D McKinley for N McKeague.
Referee - P Murphy.
**
Kerry - J B O'Halloran; J O'Connor, B Murphy, S Weir; P Costello, J Diggins, N O'Mahony; D Collins (1-0), B Barrett (0-1); P Boyle (0-9, 6f), J Goulding (1-0), D O'Carroll (1-2); J Conway (0-1), M Boyle (0-1), M Slattery (0-4). Subs: D Goggin for M Boyle, E Murphy for P Costello, T O'Connor for J Goulding, D O'Donoghue for J Conway, G Dooley for M Slattery.
Mayo - G Hogan; C Murray, C Daly, S Mulroy; C Scahill, S Coyne, D Kenny; B Hunt, C Freeman (0-2, 1'65); A Phillips, S Regan (0-1), P Kiely; S Boland (0-6, 4f), B Morley, S Kenny. Subs: E Ryan for A Phillips, D Huane for B Hunt, C Henry for S Mulroy, L Hurley for B Morley, C Higgins for S Kenny.
Referee - T Walsh.
**
Meath - S McGann; G Murphy, S Brennan, S Morris; K Keoghan, S Whitty, J Kelly (0-1); A Douglas (0-3), P O'Hanrahan (0-6, 5f); D Healy, J Regan (0-4, 1sl), D Kelly; F Ferguson (2-1), K Keena, S Quigley. Subs: E O Donnacha (1-1) for S Quigley, J McGowan for S Whitty, C O'Shea for S Morris, C O'Sullivan for F Ferguson, D Regan for P O'Hanrahan.
London - P Buckley; C Hickey, K Reid, C McSweeney; P Muldoon, C Allis (0-2, 1f), K Burke; J Kennedy, O Royston; D Nolan, C Nelson (1-1), S Lohan (0-1); B Hickey, A Sheehan (0-4, 3f), M O'Dwyer (2-0). Subs: S Lawless (0-1) for D Nolan, F Collins for O Royston, J Lawlor for C Hickey, D Glynn (0-1f) for B Hickey.
Referee - D Hughes.
Most Read Stories