What they said … the football weekend in quotes
June 03, 2019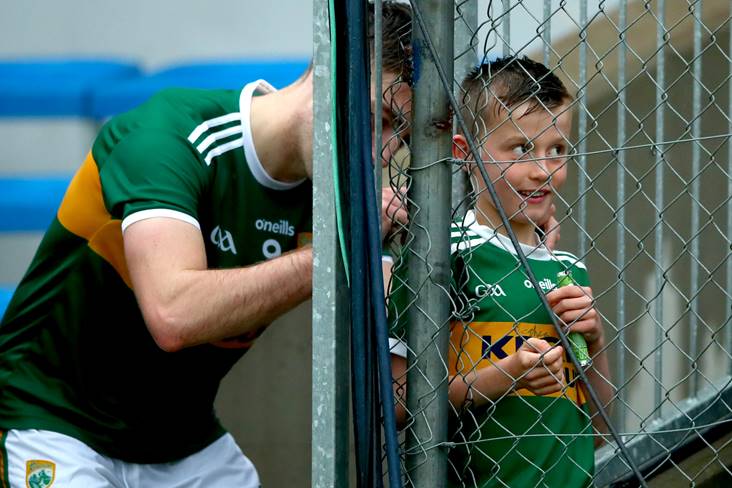 Kerry's Adrian Spillane signs a young fans jersey after the Munster SFC semi-final victory over Clare at Cusack Park, Ennis. ©INPHO/James Crombie.
"We are going to win that match, we are going to perform."
Cian O'Neill doesn't subscribe to the theory that Kildare have no chance against Dublin in next Sunday's Leinster SFC semi-final at Croker.
"There can be no question the best team won here. Did we see it coming? No, but they give Kildare credit, it was a much improved performance by them in the second half."
O'Neill's Longford counterpart Padraic Davis had no complaints after the final whistle.
"It mightn't have been a classic or it mightn't have been sexy but we got out of it."
There is major room for improvement from Peter Keane's Kerry ahead of their Munster SFC final date with Cork.
"I thought they gave us everything. We needed a goal. They didn't cough up that many goal chances to be fair. There were a couple of half-chances, but that was it."
Colm Collins was proud of the effort put in by his Clare players.
"I don't know whether that would do or not against Kerry. Let's not look too far ahead, let's focus on getting the prep right for the next couple of weeks, getting back in on Tuesday night and recovering fairly quickly. After that, it's about building up the intensity in training and then we'll look at the Kerry game and the opposition. The key thing here is that we're looking forward to it."
Ronan McCarthy's Cork inflicted a 21-point defeat on Limerick on Saturday evening.
"Look it, I played with Cian Mackey back in 2003/2004 so I know what he is capable of. He is a great man in that pressure situation and he was the right man in the right place, with the composure to grab the thing by the scruff of the neck."
Cian Mackey's exploits against Armagh came as no surprise to Breffni County boss Mickey Graham.
"It was a rollercoaster of emotions for both teams. It was nip and tuck the whole way. We both learned a lot from watching the first round games and we'll learn a bit more today, so we'll get ready to go at it again next week."
Armagh assistant manager Jim McCorry had already turned his thoughts to next Sunday's replay.
Most Read Stories