Roddy wishes soccer had an 'Up For The Match'
August 19, 2019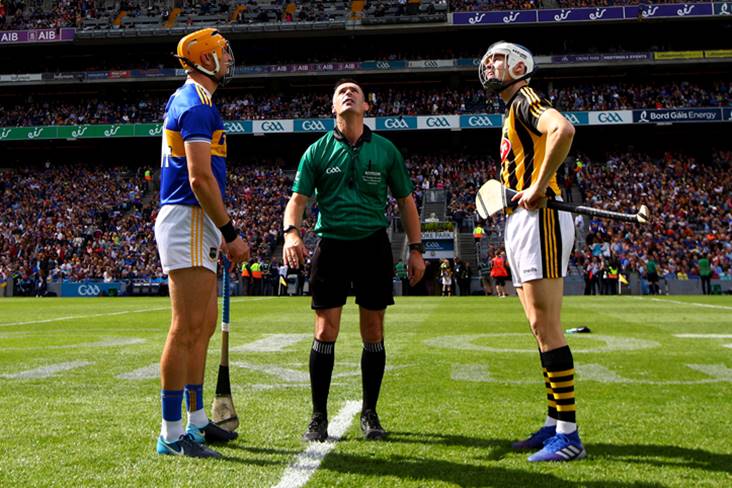 Tipperary captain Séamus Callanan and Kilkenny captain TJ Reid with referee James Owens at the coin toss before the All-Ireland SHC final. ©INPHO/James Crombie.
Love it or loathe it, RTE's 'Up For The Match' remains a pivotal part of any All-Ireland final weekend and continues to pull in hundreds of thousands of viewers.
Wearing his League of Ireland hat, Roddy Collins admitted in today's Irish Daily Star that he was envious of the show and wished Irish soccer had an equivalent
"I watched 'Up For The Match' on Saturday night and really enjoyed it. But then, when I thought about it, it left me feeling down," the former soccer manager wrote.
"Now don't get me wrong, it was a brilliant show with some great panellists and the hosts Des Cahill and Jacqui Hurley were top class. It was actually the quality of the show that had me feeling depressed.
"What have we got now for the League of Ireland? A half-hour run-through of goals every Monday evening. We can talk all we want about Niall Quinn's proposals and the All-Ireland league. But a quick look at 'Up For The Match' shows just what we are really up against. That show confirmed for me that we are fighting a losing battle.
"That show was brilliantly presented and it put the GAA forward in such a positive light."
Most Read Stories