Brogan predicts Dublin retirements
February 20, 2019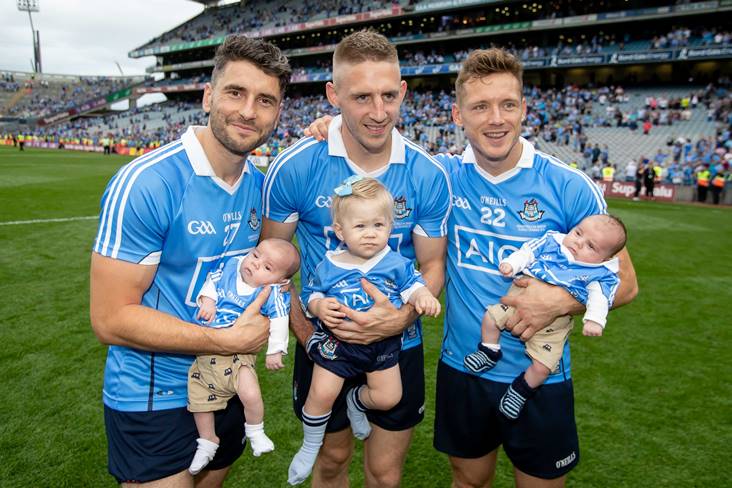 Dublin's Bernard Brogan, Eoghan O'Gara and Paul Flynn with twins Keadan and Donagh Brogan (8-weeks-old) and Fiadh O'Gara after the All-Ireland SFC final victory over Tyrone at Croke Park in 2018. ©INPHO/Morgan Treacy.
If Dublin complete the five-in-a-row this summer, Alan Brogan believes the likes of his younger brother Bernard, Paul Flynn and Eoghan O'Gara might ride off into the inter-county sunset.
Speaking to Hill 16 Army's Blue is the Colour podcast, the former 'Footballer of the Year' predicted some high-profile departures from Jim Gavin's set-up if they achieve that magnificent milestone.
"The reality is that if they do five-in-a-row, you can be sure there's a couple of guys are going to go." the three-time All-Ireland medalist said.
"You mightn't lose seven or so in the one year but there's certainly three or four guys that are going to pack it in if they do five-in-a-row.
"To replace those guys, no matter what's coming through, you just can't replace that experience, you can't replace that bite around the training pitch.
"If you take the likes of Bernard, maybe Stephen Cluxton might go for another few years, the likes of Paul Flynn, who is obviously CEO of the Gaelic Players Association, he has a tough job to do there, the likes of Eoghan O'Gara who has been around a while and is still back knocking on the door, he won't go on forever."
He added: "If you take those three or four guys out of the training pitch environment, if you take that edge out it's very difficult to replace.
"And if you're not doing it on the training pitch, it's going to be hard to replicate it in a game. I just think we have to be aware that a turn could come sooner than we expect."
Most Read Stories